Chef "Bobo" - Robert Surles
MAG
Chef Bobo - an unusual name, you say?Well, he's an unusual man. Christened as such by a good friend, the name stuck and reflects his goal of having fun in the kitchen. As executive chef of my private school's kitchen, he's always busy planning meals and really cares about our nutrition and health. Chef Bobo is so dedicated to the idea that food is fun and that cooking can provide a time for families to spend together, he's even written Chef Bobo's Good Food Cookbook available on Amazon. com.

Chef Bobo has said that he believes the kitchen is the center of community in the home, and recently, he expanded that by making the kitchen and his creations the center of a larger community by planning a fund-raising dinner to help victims of Hurricane Katrina. With a New Orleans theme, the dinner was a great success and reflected the generosity of Chef Bobo.


Overall, do you feel the event was a success? Financially and on a humanitarian level?

Both Chef Ilya and I feel that the event was an amazing success. We put it together in just one week and were able to bring in around 530 people. The actual intake was over $31, 000. When we started planning, th eDirector of Development and External Affairs asked if I would be okay if only 100 people came. I would have been quite happy with that, but the outpouring of support was so much more. We had people there who had heard our interview on NPR's "Weekend Edition" which was broadcast the day before. Today I heard on NPR that during the first week after the disaster, America's Second Harvest (which is where we sent our money) distributed 10 million pounds of food. That's more than they normally do in seven months! They think they will have to continue distributing food to people for two years. So, yes, we helped out both financially and in a very big humanitarian way.


What will you remember from the party?

I will remember most the wonderful way the school community came together from all sectors to pitch in and make this thing happen in the best possible way. Everyone was so supportive and there was a tremendous, warm feeling of concern.

I found myself crying a lot just from being touched so deeply by their kindness, and it felt okay to do so. Everybody was part of this event, from parents, students and faculty to the development office, friends and neighbors. Everyone came together and got the job done.


Was it challenging to prepare all the food for the party? Which was your favorite?

Preparing the food was a big challenge. And as we saw the number of people on the RSVP list increasing, we felt particularly challenged because we wanted to be sure we had enough food. Plus, we knew there would be a lot of walk-ins and we didn't want to turn anyone away. We had really great helpf rom all the chefs who work at the school, plus chef friends and one parent who is a chef.

We also had ten students from the French Culinary Institute who volunteered to help. It was a lot of work but also a lot of fun.

I thought all the dishes were really good. It was the kind of food I want to eat when I go back to New Orleans. The gumbo was probably my favorite.


How can we continue to help?

There are so many organizations and people in New Orleans who will need support for a long time. The important thing is that we can't let them think we have forgotten what happened after this initial rush of support. I think our Upper School's "Concert for Katrina" is a wonderful idea and comes at a good time. This is such a generous and sincere way of showing that we care.

We are going to hear a lot of stories of need over the next few months, and we must be prepared to respond in different ways, including writing letters to Congress to insist they get busy and help all the people of the Gulf Coast. Or perhaps collecting items for schools in the area that have little money. It would be nice if we could find ways to communicate directly with students there in an ongoing effort to hear what they have to say and let them know how much we care about them.


Was this the largest group served on the school premises?

It was certainly the biggest event since I've been here and probably the largest ever. But keep in mind, we serve about 500 lunches every day, just not all at once like we did at "A Taste of New Orleans. "


How are your friends and family doing in New Orleans?

Most people are just now returning to their homes. They are making decisions about whether to repair what's left or tear it down and rebuild. Chef Ilya was down there in early October to help his family sort through their belongings.

I think the people of New Orleans are overwhelmed right now but finding ways to make things work. They are working hard now but hopefully by Mardi Gras, they'll be able to take a bit of a break and show their true grit by having a fun time for a couple of weeks during their carnival season.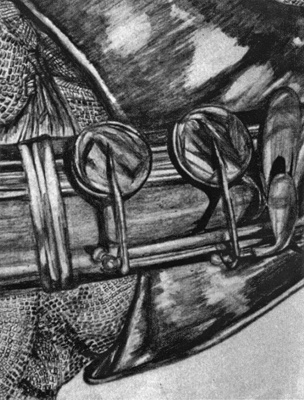 © Anonymous