The Teaching Philosopher
April 29, 2010
I could tell you that an educator is somebody that teaches others, or that a teacher is somebody that positively impacts his students. Both of these descriptions apply to Mr. Keller, but he is so much more than just a teacher or an educator. He wants to reform the way that teaching is done and the way that students learn. He believes in every single student at the International Academy of Macomb. Because of Mr. Keller's remarkable ability to teach, his ideas of learning, and his belief in his students; Mr. Keller is the "Educator of the Year."

Mr. Keller is an amazing teacher. I think back to the first day of school. I had Chemistry with Mr. Keller after lunch. While at lunch, I was talking to my friends about all of our new classes, and when we started talking about Chemistry, I heard somebody across the table shout,

"CHEMISTRY? I LOVE MR. KELLER!" After hearing this, I started to think that Chemistry just might be okay. I was wrong: it was amazing! He walks in everyday, explains what we are going to do, how we are going to do it, and then continues to do it. Learning Stoichiometry can be a bore, and Mr. Keller understands that. In a successful attempt to make it amazingly great, he performs a demonstration in front of the class, we hope for an incredible precipitate, and then figure out what it is and how much there is of it.


Mr. Keller has great ideas of how learning should take place. He believes that a student should not be punished for not knowing something the second that it is taught: it is what a student takes from a class at the end that truly matters. He believes that humor should be added into a chemistry class because he knows that not everybody is as interested in how many moles of Copper (I) Nitrate can be yielded from solid Copper and an aqueous solution of Silver Nitrate as others although he would rather not admit it.

Mr. Keller cares about and believes in each and every one of his students at the International Academy of Macomb. IA Macomb, a school based on the high school ranked second in the nation by U.S. News and Report, recently became certified to teach the International Baccalaureate Diploma Programme to juniors and seniors in future years. When we received this news, I was in Chemistry. He looked down at his computer screen, grinned and exclaimed,

"Hey, guess what!"
Then, students replied with slightly enthusiastic bursts of, "What? Huh?"
He responded in a surprised yet confident voice, "We're accredited!" He continued by saying, "There is not one of you in this room that cannot do this!"And that stuck with me. The IB Programme is going to be extremely difficult, and none of us ever thought otherwise, but some of us were beginning to wonder if we were actually going to be able to do it. But simply hearing the words, "You can do it!" really helped.

Since Mr. Keller has the capability to teach, the perfect idea of how students learn, and his trust in students, Mr. Keller is the "Educator of the Year." He is more than just a teacher or an educator; he is a teaching philosopher.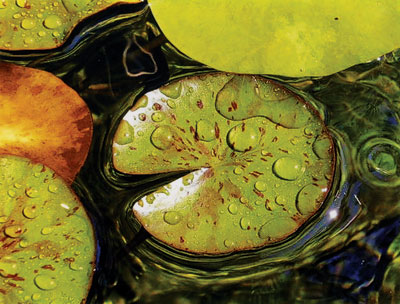 © Kaelee L., Petersburg, MI