Cheryl Lemine, Creative Writing Teacher - LaVilla School of the Arts
MAG
April 12, 2015
I walked into the room, shy with nerves. I didn't know the first thing about attending school; I had been home-schooled all my life. Mrs. Lemine, the head of the Creative Writing Department, looked at me and gave me a smile I'll never forget. It was the smile that confirmed my life was about to take an unexpected turn for the better.
To be straightforward with you: I was quite frightened to be in the Creative Writing Department due to the simple fact that I hadn't been writing as long as the other students in the class. However, Mrs. Lemine didn't mind. She liked the fact that I was inexperienced and that she would be able to see dramatic improvement in my writing, something that she hadn't seen in a long time.
After a few weeks of being in the class, I started to feel more comfortable and more confident in myself because of how encouraging Mrs. Lemine was. Whenever I'd share my work, I'd always start off by saying, "Honestly, this isn't really good but …." Mrs. Lemine would not let me go any further. "Don't downgrade your work. You'll never go anywhere in life if you keep saying that you aren't good enough," she'd say. Those words will be forever implanted within my heart.
I began to realize that my writing wasn't supposed to sound like everyone else's. I was unique, and I had my own writing style. Although I could always expand my style, I could never actually change it. My style was all my own.
I made so many friends in the class thanks to Mrs. Lemine. She was always changing the seating chart so we got to know different students. She gave me so many compliments – and suggestions – that made me a better writer. Eventually, she became much more to me than just a teacher; she became a second mother.
She was the only teacher who could tell when I wasn't acting like myself or when I was down about something – and if others noticed, she was the only one to actually talk to me about it. I can't even begin to explain how much it meant to have a teacher just listen and not criticize. She would give me advice and, whenever I needed it, a hug and a shoulder to cry on.
Not so long ago, Mrs. Lemine chose me to represent the Creative Writing Department as one of the best writers in the class. I was going to perform a poem I wrote in front of the entire school and community! I invited those very close to me. However, at the last minute, I got a text from my uncle saying that he wasn't going to make it. My uncle and I are very close. Without being able to help it, I began to cry right there in my seat in class. Mrs. Lemine noticed. She let me talk to her and cry while she listened. I don't know how I would've been able to perform that night if she hadn't been there for me at that moment.
It is because of Mrs. Lemine that I now feel as though I can't live without writing. I need to let everyone – not just her – hear my heart and understand the way I think. It is because of her that so many of her students are now independent young men and women who will forever remember the impact she has made.
This essay may not win an award, or even bring much notice to Mrs. Lemine, but I had to write something that showed how much I love her. Even if only one person reads this, I'll be all right with it. In my own life, I know people notice how much I adore her. No matter what happens, Mrs. Lemine will always be in my heart, giving me the motivation I need. She's the reason I write.
Thank you, Mrs. Lemine, and thank you to those who encouraged her to become a teacher. Without you, Mrs. Lemine wouldn't be here to encourage me at every tiny step. I can't wait to see what the future holds for my writing; whatever it is, it's because of Mrs. Lemine's encouragement. I'll always love you, Mrs. Lemine, for the future that you have given me!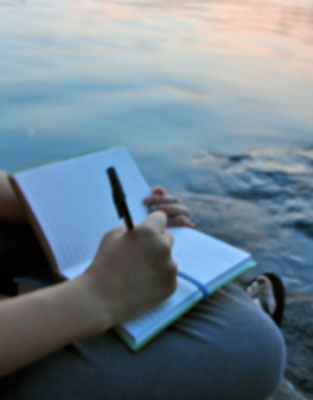 © Grace K., Port Washington, NY