Stepfather - Jay C.
MAG
These past few years have been hectic, with lots of changes. One of the major ones is that my mother married an amazing man, Jay. He has truly been a godsend to us all. Not only does he take care of my mother, but he's also welcomed the responsibilities of raising two children. My biological father isn't a bad dad, but Jay has been the main father figure in my life. Although I've only known him a few years, our connection makes it seem like he's always been part of our family. I never would have thought that a man could take my dad's place, but Jay has.

When Jay married my mom, I wasn't sure what to expect. To be honest, I anticipated the worst. I had seen what happened in some of my friends' families and I was worried. I soon realized there was no need to be because Jay was different from other stepdads. He wasn't the control freak I had expected; in fact, he's probably the most generous and loving man I know.

Jay came into my life when I needed him most - my grandmother was ill with cancer, and we knew we were losing her. Jay was always able to take our minds off the situation, and when he was there, it made me feel like everything would be okay.

I could tell immediately how perfect Jay was for my mom. He won me over when I saw how he would drive in from a job site just to sit and hold my mom's hand when she was upset about my grandmother.

It's funny how Jay and I think alike. You would almost think I was his biological daughter by the way we act. What I love most is that we share the same viewpoints on lots of issues.

I can talk to him about anything and not feel like I'm being judged. Not only do I love that about him, but he's probably the funniest person I know. When we get together, I know we'll have good times and lots of laughs. I really enjoy going places and doing things as a family now because Jay turns any ordinary outing into an adventure.

I don't see Jay as my stepdad; he's more of a best friend. When I need someone to talk to, I know I can count on him. I can always look to him for advice, and know that he really holds my best interests at heart. Jay's truly an amazing person; you have to be when you're in his situation. When I see him playing cards or football with my little brother, or when I'm sitting in the computer room with him at night talking, I can see how much he adores all of us, which is the best feeling in the world.

One thing that I was a bit shy about at first was how Jay would always hug me. If I were having a bad day, I knew he would want me to see that he was there for me. That's really special to me, because I never had many hugs from my own dad, and for Jay to put himself out there like that means a lot.

There really aren't enough words to describe what Jay means to me, but one way to say it is, he means the world. I'm the only daughter Jay's ever had, and I just hope that I'm everything he imagined a daughter would be.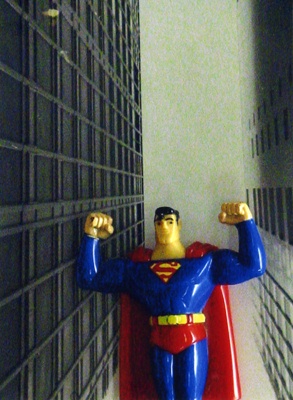 © Anonymous