A Exceptional Woman
January 6, 2009
On June sixth, 2004, a wonderful woman died. She wasn't a sports figure, a famous politician, or an actress. She wasn't famous, and she didn't write amazing books or inspiring speeches. But she was my Grandma.


My hero.



Unconditional love was a phrase that could describe my grandmother. It always seemed as though love burst from cracks in her heart. Whenever I would go to my Grandma's house, she would prepare my favorite food and play my favorite games with me. Grandma loved making people happy.



When I was in third grade, my Grandma took me to work with her. I don't remember much about that day, but I do remember how her co-workers reacted to her presence. Imagine being in a dark room when a bright light turns on suddenly, without a warning. That's how my Grandma was. She brought bright light into every room she went into, and people became cheerful and jubilant. She had an addicting, bubbly laugh and a bright smile.



My Grandma cared so much for her family. She called my mother almost everyday, and she spoke to my Aunt in Colorado often. She was the first to see my Aunt's first child being born a week before Christmas but was back in time to enjoy the holiday with my family. Family was of utmost importance to her.



Even when my Grandma was very, very sick, she never acted down or upset. Instead, when I visited her, she asked me about my life and how school was going. She pulled the attention away from the fact she was dying, because she wanted me to think about happier things.



When she died, I didn't know how I was going to live without her. She had been such a prominent figure in my life that I was torn apart and in shock.



Now, I realize how lucky I am to have had a woman like my Grandma in my life, a woman who loved with all of her heart and cared for her family so much. She is my hero because of her ability to live, laugh and love, just as the famous saying goes. Even though she is gone forever, I will remember her for the rest of my life.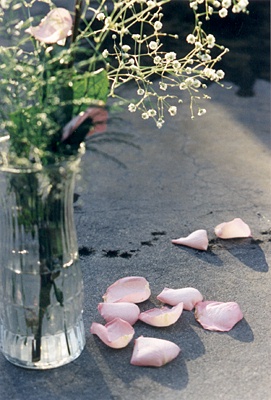 © Kathleen S., Maumee, OH