My Namesake
MAG
February 26, 2016
I used to joke around and tell people she was my namesake. After all, I share her first name, and part of her last name too. But it was merely a pleasant myth; any connection I have with Angelina Jolie Pitt is like the one I have with Angelina Ballerina: imaginary.
Nevertheless, for some reason, I've always felt like I know her. You don't forget a face like hers. The knowing eyes, those sharp cheekbones, and her wild mane of dark hair. A leading figure in modern Hollywood royalty, the world knows her name as a humanitarian, screenwriter, director, and actress.
One day, flipping through the abandoned magazines on my bathroom sink, I came across Angelina Jolie Pitt on the November 2015 cover of the Wall Street Journal Magazine. Immediately, I was struck by the contemplative photo, shot in rich black and gray. She wore a small smile that seemed to tell its own story. Intrigued, I flipped to her featurette and began to read.
Not all of it was new. I knew about her extensive work with refugees, and that she had turned heads as director of the 2014 biopic "Unbroken." The article also focused on her upcoming film, "By the Sea," which she had written and directed herself, and which would star her and husband Brad Pitt, together for the first time in a decade.
I found myself returning to a quote at the end of the article. Interviewer Julia Reed described the various roles Jolie Pitt has taken on, and Jolie Pitt talked about playing action movie heroes in the past. She said, "I did 'Wanted' [the 2008 action movie] after my mother died, and I did 'Salt' [2010] after I had twins. I don't think it's a coincidence that I go through these moments where I just want to pull the covers over my head, so I go get aggressive instead."
I was surprised. After glossing over pages and pages of the polished interview, I hadn't expected her words to come so close. In reality, she was a distant enigma, locked behind Hollywood doors. Yet I felt like she had spoken to me in a way few people ever have. I would return to that article, and those words specifically, over and over.
At the time my life seemed like a mess. Beyond good reads and good movies, things were slipping out of my control. I struggled to keep up with academics, and my creative career seemed to be pouring down the drain. I had no time or energy left for anything I cared about, averaging a handful of hours of sleep every night.
The last thing I wanted to do was leap out of bed in the morning and face the stress I knew was going to accumulate throughout the day, like snowdrifts in a winter storm. But I remembered Jolie Pitt's words and kept them in the back of my mind. Gradually, I began to see signs of myself fighting back. I made an effort to get up, dress up, and show up every morning, for whatever practice or event was planned, even when I felt like I had risen from the dead. I began to worry less and talk more about the things I cared about, no matter who I was with. Little by little, I began to feel like I was swimming, not drowning, in an ocean of objects, a sea of people.
Angelina Jolie Pitt has that effect on people. Her words, filled with her strengths and her weaknesses, transcend paper and ink. They're fluid, simple, and carry extraordinary insight for someone who seemingly leads the perfect life. And above all, they have the ability to motivate. They inspire. I'm incredibly proud of my namesake.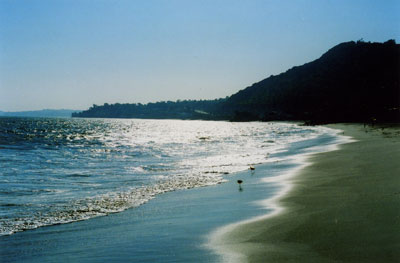 © Adam L., Washington, DC