Actor, Designer, Journalist, Singer
December 4, 2016
Vigorous and modeling a floor-touching blue dress with a purple shawl, the once a journalist hops from question to question with thrill. This wasn't the first time she had done something unique.
Former Museum of Contemporary Art (MOCA) Director of Communications Denise Reagan quit her job to pursue something completely different.
At 47, Reagan has popped a variety of career ideas, most of which many consider to be competitive industries. In her life, she's found that it doesn't matter whether or not one has to work hard, as long as it's something they love.
Reagan admitted that even if you follow your passion, you have to understand that not everyone can earn money doing that passion.
As a child, Reagan grew up around the arts. Her father was a journalist and she enjoyed singing, dancing, writing, designing, and photography. Her main focus above all: to earn money doing something she loved.
She went to the University of Florida to major in Journalism and Communications, while minoring in a variety of fields.
Reagan never took her minors seriously, but she minored in theater. She often wonders what her life may have been like if she took her theater classes seriously, as she greatly enjoyed them.
Besides being a theater minor, she also greatly enjoyed singing. "I'm a singer," Reagan said, "but I didn't have the nerve to pursue it."
She chose to focus mainly on journalism, as she felt it was a more "secure" career path to follow. She also enjoyed to ability to "be an advocate, [she doesn't] pretend to not have an opinion."
After dipping into various arts fields—especially design, photography, and ultimately journalism—and zipping from job to job, she landed at MOCA.
"I walk into a museum and go to work every day," Reagan said, cheeks lifted, as she thought of how lucky she was to be surrounded by art. This job made her happy to see others excited about the artwork just as she was.
In getting her job at MOCA, she feared that she would have to translate "people speak to art speak," while still allowing an individual to understand what is being said; however, she learned that it really was translating "art speak to people speak," something she found simple.
Not only did she have the opportunity to work in an art museum, she got to be in her favorite part of Jacksonville nearly every day: downtown. One of the most important things for her now is to watch and help the growth of downtown.
As the Director of Communications at MOCA, one of her first major jobs was to help organize and spread the word of the reveal of a local Douglas Anderson Visual Arts graduate's artwork to the museum.
"I walked in the door," she began, her pitch rising as she continued, "more than 1,000 people [were packed] in the atrium," Reagan described how small the atrium was, so to see so many people squished together to see the reveal electrified her. When the doors opened and everyone filed inside, emotions heightened, and the curtains pulled apart, the audience applauded.
"People clapping for your art," Reagan tried to communicate the emotions one would feel at being recognized and appreciated for doing something you spent time to work on. "I get goosebumps even talking about it." 
She learned through time and experience as a journalist the wonderfully difficult life one can have. In explaining the struggles in being a woman in the workforce, Reagan said, "[it] doesn't matter what industry it is, there will be issues."
What's more, she expressed that the "best thing about journalism [is that] every day is different, [and] when you're a journalist, everything is a story."
Reagan adores the arts, no matter what path it is. Journalism helped her be a part of each in some small way.
"There's a saying," Reagan began, "it's not a job, it's a passion."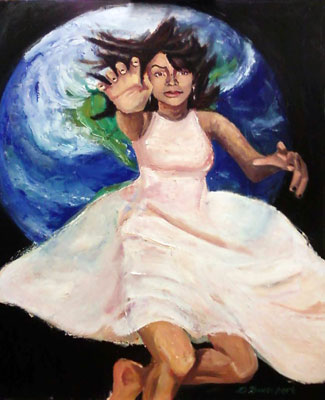 © Dominique D., Ozone Park, NY