A Letter to My Future Self in 2020
September 19, 2018
Dear Future Me,

I thought I would take the time to write you a letter about myself and my experiences currently. A lot of things are going on in my life right now, and it's hard to keep track of. Hopefully we can look back on our experiences and find them humorous, and hopefully enlightening.

As of now, I'm in Year 7, and to say it is a rollercoaster of emotions is an understatement. Bonds with my friends from my old school which I once considered unbreakable are quickly deteriorating. However, they are paving the ways for new friendships. Admittedly, this process is in no way simple. The transition from my small primary school to here is a huge change, and one that requires a bit of time to get used to. So many subjects, so many teachers! Most importantly, there are so many people, all of which are on the same path as I am, thinking the same thoughts as we speak.

They're incredibly kind, with a diverse array of personalities. My old friend Paddy (who you may or may not be on good terms with) seems to take it all in quite easily. For me, it's a bit harder. I have met people though! There's Malena, Sonya, Joseph P, Jake, Noa and Noah. I assure you there are others - I just can't remember their names. Let me know how your relationships with them are in 2020.

I have so many things I want to accomplish by 2020, and I doubt I'll manage to do them all in my entire life time. They include things like developing my friend group, becoming significantly sportier (if I know myself well enough, this is still not accomplished), as well as learning at least one new skill. I don't have anything I am particularly passionate about, and I want that to change. I want to be the person who has something specific that they are good at and love doing. If you have something like that, great. My main goal has been completed.

Your younger self,
Julia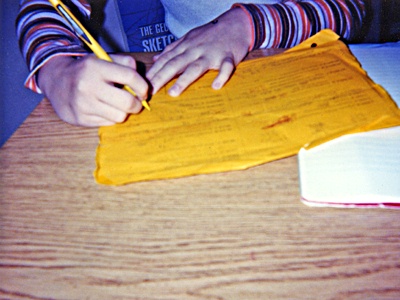 © April R., Highland Village, TX