My mask.
September 6, 2009
Ever felt like you matter?
Like someone actually cares,or even notices a pathetic existence?
existence.
What a shrill word..
In this day and age,one that means to merely take up a small square of space,and to have your path intersect with another.If even,only once.
Fate.
Fate,does it choose whether we'll take the next step to the left?
..or maybe to to the right.
Or is there an all powerful being,the invinicible one that roams the skies,whom knows every step we're going to take.
Have you ever felt accepted?
even for a moment..just a glance,that someone saw you,and wouldn't mind sharing a conversation with you.
Looking past closed doors,into what makes you,you.
Ever felt loved?
One other being that enjoys being intertwined with your own.
Another human that has you high on their list.
Felt like all is right with the world,and you'll do everything to hold on to them,to never release them.
It's like when you're walking along the sidewalk,twenty or so paces,and another roamer nudges into you..
Blows you off course,into the unknown?
When you're on a pedestal with your significant other,when someone new,someone better than you,shows them what thye could have,and whisps the away.
Into another reality,without you.
We all have a past.Some of us are open to sharing them.

...some of us are not.
We restain these memories deep inside.
Where the mere thought of what we've done,eats away at us,until we feel as if we're nothing more than a drop.
A small..meaningless..drop of rain..
You fall from your pedestal in the sky,and clash into something,or someone,eles.
Change their world.
Screw your own over.

DO you feel worthless?
Deep inside,you know you mean something to someone?
If not to another,you know you're special in at least one spectation of a way..
It's not enough..
self injury eats at you.
Facial glances,unforgiving,and..oh,so cold..
their faces,connect with yours,and you're over..

You're falling.
You're freefalling.
You intersect with someone's life.
And it's over.
Like a raindrop.


Do you family members love you?
Even though they know nothing about you?
You know your mother's,your father's,and your sibling's personalities,and their beleifs..
but if they knew your's,if they only knew your's..
how quickly they would shun,and turn a cold shoulder.
Or if you lucky,they'll look the other way.
As if you weren't there.
Only there until the voicage of passage arrives.
And you move on with your life.
I will.
I'll move on with my life,and I'll never look back.
I'll never return,and I'll never communicate with the characters of this chapter.
My best friends,my relatives,the ones who 'love' me.
They'll realize its sensible to understand these things won't last forever.
They don't love me.
I don't even love me.

Why does it even matter?
Life hasn't meant a shilling to me in years.
Why should it?
I have no values of it.
I have no truth.
I have nothing to cling onto,to cling onto..for survival.
When you break things down,it's simple in conversation.
But when your time comes along to attempt,and prevail,nothing can happen.

You can't.No matter how hard your brain tries to tell your heart to order yourself to do so.

Like at a carnival,the big ride.
Yes.That big ride.The one you say you went on to your friends,but you never did.
Thats the one.

When you approach it,you ammend to tackle it,and take the bullet head on.


You can't do it.
Nothing in this world could persuade you to climb onto the bull.
To be tossed around like a fish out of water,until you're nothing.
My words.
My ideals.
My world.

It all comes down to fear.
Fear of life.
Fear of death.
Fear of living.
Fear of dying.
Fear of hurting,fear of pain.
Fear.
...Fear.

Would you take a bullet for the one who means something to you?
Someone you love?
That irradically overused word.
Love.
Would you give up your fears,your life,your world.
So they don't have to?

...even if they say they'd do the same for you.
When that moment comes.
When they actually are in the position,aware their life will be over,and your's won't be..

They'll be the traitor.
And you're done.
They won't take the pain.
Not even for you.
The fear of the hurt.
None of us desire for it.


None of it really matters.
Can you,or I,beleive in anything?
Is that you?
Or is this you?
Am I me?
Are you,therefore,you are.

A mask.
I'm not really..real.

I don't matter.
I could take the bullet for a complete stranger.
Hell,I'd take the bullet...


...for you.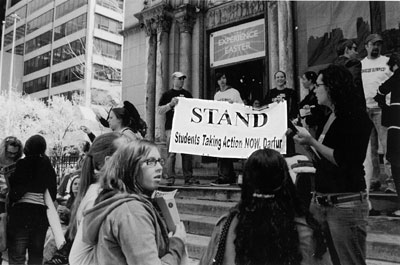 © Meaghan M., South Portland, ME