My Name
November 15, 2009
The thing I like most about my name, is that the entire thing is ten letters long. Ten letters like ten fingers. Ten letters like ten commandments. Its symmetrical. It has meaning. And yet it still has a few quirks. I don't add the 'H' at the end of my name, and my last name is pronounced differently than spelled. It's not 'UT-kin' its 'OOT-kin'. But I don't mind that much. My name fits me, but yet it doesn't. It's even a bit of an oxymoron, because in English, my full name means 'graceful duck'. And ducks certainly don't look graceful.
I'm not graceful either. If there was a name that meant 'Girl Who Always Knocks Things Over and Trips Over Air', it would probably fit me well. But I wasn't named Hanna just because it means graceful, I was named after my great-grandmother. She was a strong, stern- yet gentle, intelligent and hardworking woman. She used to hear a song or opera once and be able to come home and play the entire thing, perfectly by heart, on her piano. I wish I had inherited her music talent.
Actually, my great-grandmother wasn't really named Hanna. She was born Hinda, the older daughter of twelve siblings. During World War II, she had moved by herself from her small village, to St. Petersberg, in Russia. She changed her name to Anna, and reported that her documents were burned in a fire, so that the authorities would not know she was Jewish. This way, she survived the war, although in very harsh conditions. Only one of her siblings from her entire family survived with her.
I imagine there must have been a twang of bitter loneliness from there on in her music. No matter how beautifully she played it, there must have always been notes that reminded her of the family she lost. And chords that sang the pieces of her life that no longer fit, entire stanzas of memories…. I wonder if she ever composed anything. I would want to hear it, and know her better that way.
I know three different languages, and I have been called three different things. Each one of my name reminds me of different things. In English, Hanna, to me, sounds like the smooth rolling of ocean waves, whispering 'H' sounds as they go to and from the shore. In Russian, Anya makes me think about the movie Anastasia, of the scenes of the main character walking through the snow with her great black boots, singing and dancing in the falling snowflakes. Chana, my name in Hebrew, remind me about the many times I've written my name, from right to left, on the top of a test paper, in hope that this time '??? ??????' will do better.
I like my name. It represents a big part of my family history, and I don't think I want to be anything other than Hanna Utkin. Well, unless I'm coronated or something.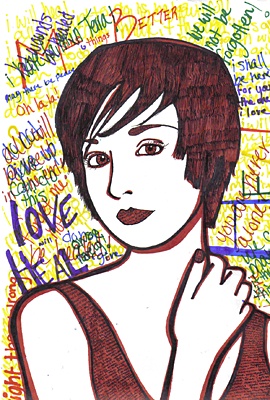 © Sara D., Aiken, SC