The Elephant Man
MAG
November 18, 2009
I don't know why he frightened me so. Perhaps it was my innocence, childish fears, or simply the cold hand of reality that caused me to react the way I did. But as the years passed, my subconscious began to develop a small corner of long-term regret.

Like a tumor in the body, this spot in my mind slowly infected my personality, causing me to become passionately aware of the evils of the world and making me want to stop them. Human evils, specifically. Outwardly, I know my reasoning is foolish: what happened all those years ago was simply due to childish ignorance. It had nothing to do with making me into a hypocrite or a sinner. Yet somehow, that biting corner in my memory remains to remind me of the way I treat others.

I try to fight back this infection by thinking not of what I did, but of him. Does he still remember that his presence, his haunting face, held so much horror for a little girl? But most of all, does he remember what I did?

I screamed. That's my crime. I saw a man, not 20 feet from me, whose face seemed to be disconnected from his skull, a cascade of worn, velvet curtains descending upon a dusty stage. Resembling a beard made of useless flesh, his defective features appeared so distorted that they no longer resembled human skin, but rough, crinkly elephant flesh. His dark skin tone completed the visage, making him truly look like an extra-terrestrial being having a tour of planet Earth.

At least, that's what my six-year-old eyes perceived. And so I screamed. It was not a yelp – quick, to the point, and over before you knew it – or even the squeal of a child who is startled or caught red-handed. Either of those would have been forgivable.

No, I uttered the loudest, most high-pitched, blood-curdling scream any child could ever create. People in Mongolia may have heard the echo of my cry from the inland city of El Cajon in San Diego County. My scream must have interrupted every Broadway show in New York City.

At least, that's what it felt like at the time. I didn't care if the world heard me. I wanted help, though I wasn't hurt. I wanted an explanation, though I didn't ask for it like a normal human being. Instead I screamed, without words. Just one long scream of horror. Right there in the grocery store. Right next to the safety of my mother and brother. And right in earshot of that monster.

And that's exactly how I viewed him: a separate species from mankind, come to prey upon innocent children and do other horrible things to them. I was afraid of being one of his victims. I can't understand how, at the time, I could idolize Quasimodo, the animated, deformed hero of Disney's "The Hunchback of Notre Dame," yet be terrified by this real-live Quasi.

Most of my memory of that day is lost forever. What store it was, what we bought, whether it was a school day, weekend, or vacation – these are all forgotten. But the sight of the man's grotesque features sticks in my mind.

To this day, I wonder whether the elephant man recollects the incident. Does the memory of my scream still haunt him? Or, is he so used to similar – and possibly worse – reactions that my particular scream did not affect him? If he does remember, he might think I have forgotten him by now, as the world tends to overlook those like him.

But how can I forget? I must have hurt him terribly then, even if he's forgotten it now. I imagine that he glanced in my direction, not meaning to give me a full view of his distorted features, but just to gaze at me, as if willing me to see into his heart.

What's the matter? he would have wanted to say. There's nothing to be afraid of. I'm still human.

I picture his eyes staring at me as I sob in the grocery aisle with my mother hovering over me. Maybe he was angry, fed up with the negative reactions meeting him at every turn. Maybe the incident motivated him to leave town. Maybe I caused him so much pain that he did something rash, like attempt suicide. Maybe it was none of those; maybe I just recreated a memory from his past, when other children treated him cruelly at school.

I guess that's one good thing. I didn't laugh or mock him. But I still screamed. I didn't just stare, or gasp, or yelp and hide; I screamed.

So how can I forget? At the time, the memory of his face was burned into my brain and visited my worst nightmares. Now the only thing I fear is his soul and how badly I hurt it.

Is it possible that my instinct to always do unto others as I would want them to do unto me was caused by my upbringing? Or did this singular experience plant that lesson in my heart that day?

For some reason, I can't help but believe that the elephant man did more than leave a nightmarish addition to my memory. He unknowingly implanted a powerful monitor in my conscience that will forever govern my treatment of others. Naturally, I have screwed up many times, whether out of juvenile jealousy or a spiteful temper. I have never screamed at another poor soul like that, but when it comes to controlling my other emotions, I sometimes break away from my internal leash.

That's when the elephant man comes in; instantly after my little rampage, I feel a horrible emptiness, as if what I just did created more pain for him. My regretful soul clashes constantly with my hot head; the two weights of my life (my temper and my moral sense) are often shifting my secure seat in the world until I am trembling so violently I don't know which way to turn.

Then the memory of the elephant man returns, this time to coax me, to remind me of that crucial truth we all must face in life: I am only human. I am not perfect. I cannot change others' problems. This does not mean I should inflict pain on them, nor can I prevent myself from slipping once in a while. That man is more than just a memory; he lives in me, in my mind, soul, and body, guiding me every day.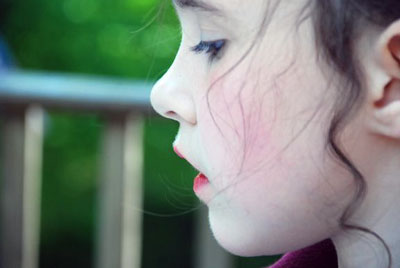 © Julie P., Rochdale, MA