Goodnight Sally
March 8, 2010
I walked towards the park with a grin on my face, excited to arrive. I had to tell my dad I was going to my friend's house but I found it worth it, as it is every night. I played with my thumbs, one over the other. I approached the park and saw him waiting for me laying on the grass. I started towards him looking down, pretending I hadn't seen anyone there.

"Hey Al." I heard him say as I glanced his way. He was sitting on the grass now, smiling. He wore a tee shirt with the words "Party Boy" written across it and baggy pants with big pockets on each side, probably filled with his phone and all his key chains.

"Hey Ezra," I responded,"and I told you not to call me that." I warned and gave him a smirk. He just giggled and layed back down. I walked in his direction and layed next to him, staring up at the sky.

"So, what did you tell your dad this time?" He asked. He looked at me now but I stayed locked on the stars.

"I told him I was walking to Kim's for a homework hour so I can't stay here for long."

"Aw," He teased with sarcasm and made a sad face, "how sad." He laughed. I poked him in his arm and he just ignored it. He stared up at the sky, as if his face was unmoveable.

We spent the next hour pointing to stars, trying to make shapes out of them. The time passed quickly, as though an hour equalled a minute. The clock clicked eleven PM, my curfew.

"I have to go, it's eleven." I stated as I got off the grass.

"Ok," he said, "do you want me to walk you?" He sat up and picked out some leaves that had landed in his hair from the ground.

"No, it's ok. It's getting late and you would have to stop walking with me about a block before my house anyway." I said and he gave me a confused look. "My dad can't see you."

"Fine, I'll see you tomorrow. Call me when you get home," I looked at him, puzzled, "just so I know you got back safely." He said and looked down at his thumbs. I smiled and started out the park.



As I walked in the door to my house, I saw my dad on the couch with the remote on his stomach and eyes closed. He was still wearing his glasses and his leather jacket and his bandana on his head. I closed the door quietly and tried walking upstairs the same way trying to avoid awaking him. I got on the second step and looked his way. He had his eyes open, in my direction, waving.

"Hey abbs, sorry I woke you." I apoligized.

"Sals, it's ok. What took you so long?" He asked, clearly knowing my arrival time.

"Kim wasn't understanding something in our homework so I tried explaining it to her."

"Ok, that was nice of you. Goodnight."

I walked upstairs and pulled my phone out of my pocket. I dialed Ezra's number and waited for an answer.

"Hello?" He answered.

"Hi, it's me. Just calling to, er, well goodnight." I said and rolled my eyes.

"Goodnight Sally," He said and hung up the phone.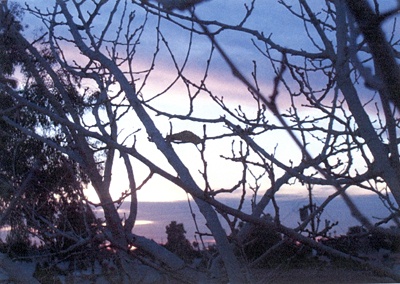 © Delia R., Phoenix, AZ