My First Kiss
September 25, 2010
My first kiss went a little like this...

I wish I could tell you it was a fireworks in the background, romantic type of kiss, but it wasn't. In all its simplicity, though, it was perfect.

It all started after school one day on September 24, 2010. I was going over to my friend's house before a Friday night football game, along with a lot of my friends. We all went into her basement, into her small living room down there, sitting in a circle.

"Dare or Sexy Dare!" One of my friends declared we'd play. I went along with it, mainly because it was a game full of laughs. We went around the circle for a while, playing the game, all being dared to do stupid, ridiculous things.

Then it was my best friend's turn. "Um...sexy dare?" He stated cautiously. I smiled. I'd had a crush on him since the sixth grade, now sitting in the circle as a Freshmen, I felt ridiculous.

"Kiss her." Someone said, pointing at me. I just stared at him.

Two weeks prior to this moment in time, we were sitting in a circle with the same friends in the parking lot of the elementary school. He was dared to do the same thing, but said, "No, it'll be too awkward guys." I had been disappointed, but laughed it off, like always.

But then, sitting in the basement of my friends house, my friends all staring at him, I was expecting the same letdown. "Yeah, I will." He said. I was shocked.

As I went to the middle of the circle, stopping when we met, standing on my knees, I pulled nervously at my soft, purple shirt. I suddenly became self conscience, biting my lip. He just stared at me. "You alright?" He asked me and I nodded.

"Perfect." I responded. I grabbed the back of his head, acting like a pro. Both of his hands held my back and I relaxed.

He leaned in first. I held onto his head, fingers running through his hair. Then our lips met.

The mathematics of kissing doesn't add up. No matter how you look at kissing, it won't ever make sense. Teeth should bang together, noses should bump. But none of that happened. My eyes were shut, our lips moving together in perfect synchronization.

I felt my face get hot, my head titled. My fingers gripped his hair tighter, his hands ran up and down my back. I then twisted away.

Why I twisted away, will be a reflex I'll never understand. I could feel my lips tingling, his warm hands burning into my back. "Uh..." Was all anyone in the room said. I felt my phone vibrate in my pocket as I let him go. He still held me. "You...wow." Someone else in the room said. He dropped his hands.

I somehow ended up back in my spot across the circle from him, my head foggy. I grabbed my phone, reading the message. It was from my friend Veronica, who was sitting in the circle next to him. She was asking me how it was, how awesome it looked. I blushed. I looked back up at him.

He wasn't looking at me, his arms wrapped around his knees, staring blankly at the white carpet in front of him, moving his lips around nervously. I sighed.

...My first kiss went a little like that.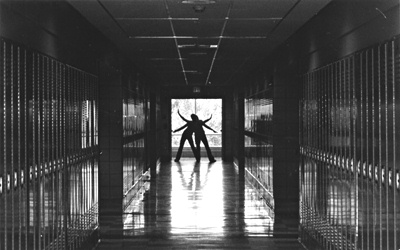 © Sheera G., Marblehead, MA