The Ring
February 16, 2011
I have worn this ring for several months. It is a small, thin silver band; the stone is an amethyst. I don't know how cheap it was. It came in a little box with a sticker on top reading Local Color: Key West. Key West, Florida, of course. I received it on my last birthday. My fifteenth. I've been wearing it since.
The other day I was in biology. I am almost the only one of my friends without a boyfriend. But I am not the only one with a ring. I was listening to other details of other people's rings when something occurred to me. Why am I wearing this ring?
I wear it because I was given it, of course. Because I am such a softie and cannot bear to hurt anyone unless I have a real d*** good spite at them. Because I don't know what else to do with it.
I have worn it nearly everywhere. I have not taken it off since I was given it except for these two things: showering, and swimming in Minnesota lakes. I play with it all the time – I have even developed a scar on the first knuckle of the third finger of my left hand from sliding it back and forth and letting it get purposely caught on that highest ridge of my knuckle. I even slide it and catch it while I swim, and as my hands go through the water I am desperately trying to hook the ring back down and around my knuckle where it's safe, before it slides off my finger and plummets through the water.
There's a small black thing inside the stone. How it got there I don't know. It wasn't there to begin with. What it's doing there I don't know either.
Last night I took the ring off. I haven't put it back on yet. I've considered hanging it on a chain and wearing it always, as a necklace, as a memento of something I cannot get back. I've been absentmindedly trying to catch it on my knuckle all day. It usually takes me about six tries to realize the ring isn't actually there. I do feel lost without it. But oddly enough, only when I think about it. When it's not on my mind it's not weighing heavy on my heart.
I took the ring off last night. I stopped texting him. I haven't replied to his emails. I have not said a word to him since I ordered him, via text, to stop playing with my heart. Perhaps I am averse to all the old stories. Where putting on their rings made them powerful, it is taking off mine that finally did the trick.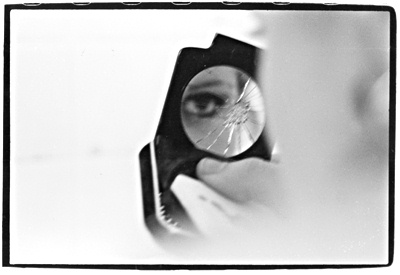 © Heather W., No., Brunswick, NJ