My Mommy-kins
MAG
June 6, 2011
My mother is on the couch, feeling rested and normal. The disease that cripples her body has no hold today. She is on the phone, most likely with Renee. She is laughing, her smile genuine. I can feel relief wash over me; my mother feels well today.

My mother was diagnosed with multiple sclerosis when I was 12. I learned the awful reality that this disease was creating holes in her brain, which caused her to lose feeling on the right side of her body. I cried for weeks. I'd never heard of MS, but if it was evil enough to harm my mother, it was the worst illness of all. I confronted Mom one day as we drove home from the grocery store. I had been upset all day, a blood-chilling fear slinking its way over my spine.

"Mom?" I'd asked, staring ahead, "are you going to die?"

My mother looked at me as if I were an idiot. "Duh," she said bluntly. "Everybody dies eventually, unless of course, I find the fountain of youth. But, just like an honest politician, that fountain is a myth."

I understood immediately that she didn't get where I was going. I looked at her hair, the red copper color catching the light like a cascade of polished metal wire. I love her hair, and I am always disappointed that my hair (a mop of locks the color of hot chocolate) will never be as beautiful. I started to cry softly, my heart breaking. If she died from this illness, her hair, her smile, her icy blue eyes would all be gone.

My mom thought I'd lost my mind. "What's wrong, honey?" she asked, her voice as soothing as a summer wind through tall grass. "What happened?"

"Mom?" I blubbered, "are you going to die from this disease?"

"No! No, honey, of course not!" she assured me. "I went to Dr. Fisher and he told me everything I needed to know. I'm not going to die. You can't get that lucky."

My mother winked at me, her eyes mischievous. She's always had that kind of joy. It was her strength – the laughter that kept her going. I knew how hard it was for her to live without Dad. The MS didn't help either. Some days, she was sick as a dog. Other days, she had more energy than me. It was nerve-wracking.

"Don't go anywhere," I begged her, tears still there.

"Like I said," my mother repeated, "you can't get that lucky."

I don't know what I'd do without my mother. She's been a pillar of strength for me forever. ­However, I know she isn't a god. She is very human. That is how I've been able to come to trust her.

I was diagnosed as depressed at 12, and have been struggling with unyielding menacing thoughts and feelings. I thought that I was alone and that nothing could ever make me feel okay. I thought I was going to die with all these unhappy thoughts weighing me down. However, my mom showed me that I am not alone. In fact, I am far from it.

Then my father died, and soon after, I was lying in the dark of my room. The television was on, but the flickering on the screen was irrelevant to everything. I was spiraling again, my thoughts swimming in sadness. I was in a trance caused by the peace of the dark. So when my mother flicked on the light, I nearly jumped out of my skin.

"What are you doing here in the dark, ­Vampira?" asked my mother, looking at me. "You need light."

"Go away, Mom," I said coldly.

"No."

I sighed, nowhere near a good mood. "Mom, I really don't want to talk, okay? I'm having a tough time."

"Well, Chloe," she said, "will sulking make it better? No, and I understand everything sucks right now, but that doesn't mean you can become a ghost."

"I just don't know how to, you know, deal," I finally choked out.

"I know," she replied.

"Do you know what it feels like to be like this, Mom?" I asked. "Do you know what it is to be hopeless?"

"Are you kidding me?" she asked. "Do you remember your father? I went through hell. Sometimes I went out driving alone in the wintertime when the ice was thin, and I thought about giving up, and driving into the lake where my car would break through."

I was shocked at first, my heart giving off a nasty hitch. I was afraid. But mostly, I was surprised. I really wasn't alone. "Really?"

"Yep. I went through all this stuff before."

"So it passes?"

"Duh. You aren't stupid, so don't say stupid crap."

"O-okay,'' I said, dumbfounded.

"It's all going to be all right," she told me.

And for once, I really believed it.

Through everything, my mother has held on to my hand and helped me. I really couldn't live without my mom. I am fortunate to have her around every day.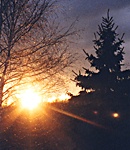 © Christy S., Germantown, NY