To Make Him Proud...
June 23, 2011
I can't remember what my mom asked me to do this morning . . . But I remember growing up with my Daddy. I am who I am today because of him. As I grew up, I only wanted to make him proud. To make him brag about me. To hear him, "That's my little girl." But he never did.

We would watch a Jackie Chan or Bruce Lee movie, then re-enact the fighting scenes. Or we would watch wrestling and cheer on the Rock, then wrestle ourselves. He always let me be the Rock. When my mom gave me a choice between girl scouts and karate, I chose karate . . . To make my daddy proud.

He never came to any of my classes. He dropped me off and left. When he did stay, he always told me what I did wrong. Although, he did work with me at home, and he came when I had a test. Whenever I got nervous, I just closed my eyes and saw my Daddy. Then and only then, was I okay.

In the seventh grade, I dropped out of karate with a purple belt. I regret it everyday . . . All my dreams, were with the Dojo. But, I wanted to make Daddy proud. I played basketball for my school. I helped my team get to the finals. We finished second. He was at every game and practice. We would go to the court by our house and practice. Then the season ended. My mom mentioned softball.

I thought of the baseball stories my dad always told me, and jumped at the opportunity- to make him proud. So there I was, catcher and outfielder for the softball team. I made a lot of new friends and discovered a love and natural ability I was unaware of. But Daddy wasn't proud. We would work on my skills 24/7. Sometimes I would break down crying, right in front of him, because I couldn't understand what I was doing wrong. He would just get mad and walk away, leaving me wondering . I would beat myself after because I knew he looked at tears as a weakness.

I went to All-Stars that year. I got a trophy and everything. I was even runner-up for MVP. He still wasn't proud. I felt like crying when he said my trophy was "neat." But instead, I went and spun in circles on the merry-go-round, wondering what I was doing wrong in his eyes.

In eighth grade I spent my year focusing on my school work. Maybe that's what was wrong. But not even straight A's and top of my class made him proud. So ninth grade, I focused on my grades and softball. He still wasn't proud.

Right before the season started; my first season as a Patriot. The day before my first scrimmage . . . He died. I felt terrible because in the hospital, all I could think was, "Now he's not going to be able to see me play." I missed all our scrimmages. Not finding the strength to go out on the field. To face reality. But, I went back the week before our first game. I wasn't going to quit, he hated quitters. No one said anything as I worked my heart off- trying to make him proud.

That Sunday was his funeral. I sat on a couch near the open casket. Looking at all my trophies and achievements around him. I was trying not to cry as friends and family looked at him, my stuff, then me. They all told me how proud he was of me. How all he ever talked about was how great was, how I was his little girl. They all said I'm just like him.

The next day was my first game. The bleachers were filled with people there to support me. I couldn't help thinking that even though the fifteen people who came to replace that one, didn't. Half-way through the game our catcher was injured. Coach told me to go in. I didn't know what to do. I'd never caught without my dad behind the fence, guiding me. As I missed ball after ball, I turned around to see my Uncle. "Focus munch . . . You got this." As I looked up on the hill, I saw him. I saw my daddy. He was watching me with a critical eye. I caught the ball. Inning over. I was done catching for that game. I injured my ankle running bases. But, I knew he was proud, and I was happy.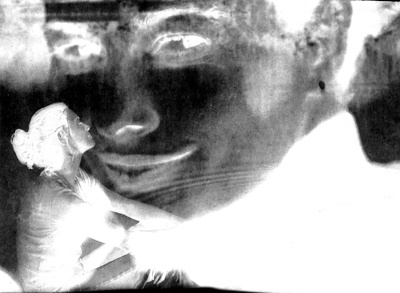 © Kelley C., Marblehead, MA