Peer Pressure
July 20, 2011
It's twelve a.m. You are sitting around a campfire with some friends. One takes out some swishers and another takes out some vodka. You sit in the circle as each thing is passed from person to person. Finally, it reaches you. You stare at it. Some people will do it without a thought, but tonight, that's not you. You think about it first and then you decide. What was your decision? To drink, puff, and feel relaxed or to refuse them all and feel completely awkward?
I write this not because it happened to me but to try to understand why people do that stuff. I have been raised as a "good girl" but sometimes when faced with these things, it gets hard to say no.
I'm scared. I'm scared that I'm going to fall to peer pressure. I'm scared that I can only say no so many times. I'm scared that I'm going to lose myself. I'm scared of so many things. I'm just scared. Sometimes I think I'm the "party pooper", the boring kid, and the one whose no fun. It's all because I'm "clean". I don't do s*** and that's the price I pay.
I wish I could find the ability to be me and be fun. It's a journey. It's a journey I have to embark on and it's a journey I'm taking. It's rough and it's hard but as long as I trust myself, keep to my beliefs, and follow my heart, I know I can. I know that that sounds cheesy but its what we all have got to do. What I aspire to be feels like something I will never reach, something I will never experience, and something I can't achieve. My comfort zone is with my friends. With my best friends and I am so afraid to leave the shelter of them.
I know they would never test me or ask me to do something I wouldn't. They believe most everything I do is right, they trust me, they believe in me, and they know I'm awesome. Why don't I feel that way though? Why do I feel lost, hopeless, pathetic? Why, even though I write all these inspiring things, do I feel ugly, unimportant, and like nothing? I don't know where I fit in, I don't know who I am, and I don't know where I'm going. I'm lost in everything, and I'm not just scared. I'm terrified.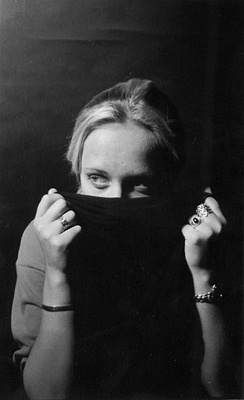 © Hadley B., Marblehead, MA