Snow Caving
September 30, 2011
Last year, I discovered a truly awful activity: snow caving. Every year, the Outdoor Club embarks on a long, cold, and miserable trek in the middle of winter to dig, and then sleep in a frigid, wet snow cave. Last year was my first year going on this 'adventure', and I had little knowledge of what was to come or even what to expect. I was group with amazing people, who I did not know that well. But at the beginning, I was feeling pretty optimistic; I would make the best of this apparent setback. We packed our food for the weekend, got into a van, and we were off on our chilly excursion.

As we got off and put on our snowshoes, I realized, much to my horror, that I did not know as much as I had though I did. So, with much difficulty, I managed to put on my snowshoes and donned my backpack, feeling much like an awkward penguin amongst the graceful birds. After we all got all of our gear on, we set off on the approximately two mile trek, uphill, to the location of our camp site, or, in other words, where the mounds of snow were.

And so the penguins set forth, each of us lamenting bringing some thing or another that made our back packs that much heavier. We made the journey though, as we each attempted grace in our glorified flippers, and we made it to the place of mounds. When we got there, we each dispersed into our pre-selected cave groups. Coincidentally, my two cave mates were still staggering up the trail, and I, being the extremely patient person that I am, decided to join a different group rather than wait. And so Kiev, Brooke, and I began to look for the appropriate mound of snow.

Searching for a mound of snow is a little like looking at houses to buy, and similar to looking at houses, it gets boring quickly. We looked at about twenty different mounds, noting the virtues of each one, and then tired of the failed quest, deciding on the mound that we had left our gear by. We found as we began digging our new home out that the snow drift we had chosen may not have been the best choice for a cave location. Because we feared the coming darkness and with it, the freezing cold, we began hollowing out the mound despite these seemingly overwhelming setbacks. As we were digging we hit a tree and then, as we attempted to correct the error, almost had a cave in, but we finished and then went and ate dinner.

The first night was hard. In our cave we got very little sleep, and what sleep we managed to get was not very restful. When we woke the next morning we were very cramped and it was painful to stretch my legs. We went for a pleasant hike that day and slept in the sun, atop the cold snow, all the while having the foreboding feeling that the worst was yet to come.

My intuition was correct, for the next night, my lovely caving buddy, seemingly attempting to endear herself to her cave mates had to use the restroom in the middle of the night. Unfortunately, snow was falling heavily that night. Her means of exiting our close quarters caused problems because our cave did not allow passage through to the outside world when the gear was set inside, so she shoved everything outside and neglected to return it to its original location when she returned inside. The next day, Kiev and I awoke with the ceiling of the cave dripping on our foreheads to find all of our belongings scattered about and frozen. Brooke, the girl responsible for this late night infraction, slept soundly in the cave as Kiev and I dug assorted items out from under the fallen snow, while a new layer slowly drifting down upon our heads. Strangely enough, it seemed to be only Kiev's and my belongings out there that morning, while Brook's gear was safe and sound, nestled in our toasty, slightly above freezing snow cave.

Looking back, snow caving was something new, an experience I had never had. I looked upon it in an unfavorable light, and not just because all of my socks had gotten wet, including my last pair that had frozen outside the cave thus causing immense unhappiness. The trip was filled with many trials, and certainly I did not have the greatest number of hardships. In short, snow caving does not turn out to be as much fun if you do not know what you are getting yourself into.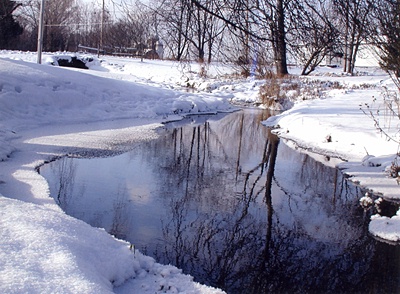 © Alex B., Rome, NY