This Hamster Does Not Have Sad Eyes
April 22, 2012
It takes me some time to get him out of the cage, but eventually I do. He's like a small, nervous sales clerk, constantly twitching and looking for escape, not necessarily out of fear but out of instinct; out of a need to keep busy, to keep moving, always - much like many people.
I tell myself this hamster does not have sad eyes. They are flat, oval globes, bugging slightly out of his head; they are flat, and they are empty, and that is not sadness I see in them - it is emptiness, wholesome mindlessness.
Nevertheless, it's a cruel fate this hamster has: occasionally terrorized by the cat (my mother says he will get a heart attack if that keeps happening), fed when needed, litter changed every month or so - I suppose it's no harsher a life than any other hamster lives, or than he would have if freed. And yet I can never help but pity these animals, these helpless, mindless, purposeless things, kept as pets in many households to live out a monotonous life. They remind me of people, really; of those two-dimensional, empty people you walk by on your way to school, on your way to the corner shop.
Okay, I get the hint. I set the hamster gently back down onto the soft litter floor. I've taken him out of his comfort zone; I'm in his personal space, back off! He's no longer used to human contact, or any contact at all, really. Does he have imaginary friends? Imaginary adventures? Does he dream of freedom and of greener pastures far, far away?
No – I know he doesn't. Science tells us: they're not sentient beings, have no humanity (humanity being a synonym for intelligence and sensitivity nowadays – what a joke!), no imagination, no – no nothing. Just hamsters. What you see is what you get. No deeper layers – sorry, folks, that's just the way it is.
And yet, on my way out of the room, as I close the door softly (as if it matters to him), I tell myself: this hamster does not have sad eyes.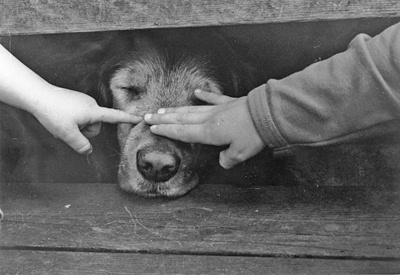 © Anne S., Portage, WI