Mind-Speak
August 4, 2012
My mind speaks to me 24/7.
To tell the truth, it's not that bad, actually.
But then there are times where I feel so cluttered I want to scream.
I realized long ago that what my head was telling me: dreams; inspiration; miscellaneous thoughts. It wasn't long before I found a category for them.
Imagination.
And even now, it's still jabbering on, talking in a language only I can understand—the language of ideas.
The flow of thoughts are forever changing at unpredictable tempos. Sometimes it's at a steady pace, like a calm river. Sometimes it's rushing and rolling so fast that I can't keep up. Other times it's like it completely shut down, refusing to give me anything and leaving me alone to stare at nothing.
Like now.
I'm currently out of ideas, when a moment before, I was full of them and ready to burst.
Now my mind has left me speechless, with nothing to put down. No words, no inspiration.
But now I'm writing about how I have no inspiration, which is inspiration itself.
…Maybe I was wrong before.
My flow of thoughts don't shut down. It's still running and racing. It's staring right at me in the face.
I'm just not looking hard enough.
And so I close my eyes and let out a deep breath.
And I'm flying again, soaring high above the clouds and spiraling into unknown galaxies of thousands—no, billions—of twinkling stars. I'm sprinting through never-ending fields, the sunlight warm on my face, the grass amazingly soft between my pounding feet. I'm underneath the surface of the cool water, feeling the liquid on my skin and my hair swish this way and that as I shake my head. I'm resting in the treetops, my arm hanging lazily off the branch, a bird perched on a branch above my body, cocking its head to study me.
Yes, the flow never stopped.
I just wasn't looking hard enough.
But now I am.
And my imagination is back again.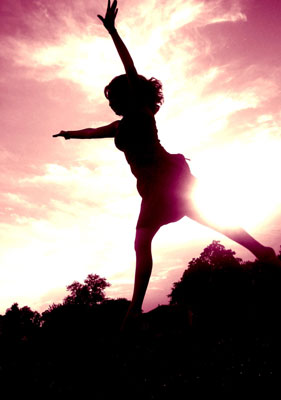 © Martha V., Morton Grove, IL