I Am a Walmart Worker (with background music)
September 7, 2012
First day on the job! I stare at myself in the mirror wondering if I could pull off a hair net. Blue shirt and skinny jean kakis… oh no, I look like my parents. Both my parents work at Wal-Mart. My mom is apparel and my dad is bakery. Now I'm in the deli; this is a good 5 to 20 feet away from my dad. We have one vehicle and it's a van that stalls even though it's an automatic. I look at my watch for the time and remember that I can't wear it for safety and health reasons. 8:40 a.m., good thing work is only a 10min. drive and 15min. in traffic. I slip on my green skull candy headset and drive to Wal-Mart. Who would've thought the song "Back in time" by pitbull would make great background music today.

I've already done my computer training and walk through of the store, as if I haven't been everywhere in that place before. A guy I graduated with went through training with me. We weren't friends in high school. Not suggesting any offset emotions, we just hung out in different crowds. Jeff and I were the only two in training so I guess he's my first friend at work though we don't work in the same departments on the downside. He's a maintenance worker. As I pulled into the parking lot the song changes to "Fine by me" by Andy Grammer. It's weird walking into Wal-Mart, a place where everybody goes, and feel like I'm on the other side. I put my stuff in my locker, walked over to the personnel office to finish up anything left on the computer I had to do. From 9 a.m.-1 p.m. I worked at the computer because my trainer didn't come in till 1 p.m. When she realized I had finished what should have taken another two days there was nothing left for me to do then go behind the deli counter.

I worked until 5 p.m. that day and was about to have my lunch in an hour. For the next 60min. I was taught everything necessary to work the slicer part of the deli. Everything from finding the meat and cheese, slicing, typing in the code, and rewrapping it back up. It's really not that hard. I mean except for the finding the meat part. We have about 7 different brands, all the labels are faced so the customer can see it, and I get to guess where each thing was; at least the cheese was grouped together. The hour went by fast, my supervisor, Tim, sent me to lunch and I really hoped I wouldn't forget anything I just learned. All they play in the break room is GSN! It's like "Are you smarter than a 5th grader" never stops playing. People can recite the answers; same with "Family Feud".

Lunch over. Time to slip that hair net and blue apron back on. As I walk behind the counter about 3 or 4 people all leave and say there should be someone coming in at 4:30. That's an hour and a half away. Oh well no bigs, it's not like it's the first time I've done this, oh wait… It wasn't until my 2nd customer that I realized I was the only person on slicers! There was a line of five people building up and a lady at the front who wanted 8 different items varying in brand, amount, and thickness. No bigs. Did I mention that every time a person orders roast beef we have to completely clean the slicer before cutting anything else. Talk about over whelming a girl on their first day. There was someone over at the hot bar side, I didn't know his name but he look about either my age or a year younger. Let's just say there is no way this job can seem any harder after a first day like this. No bigs.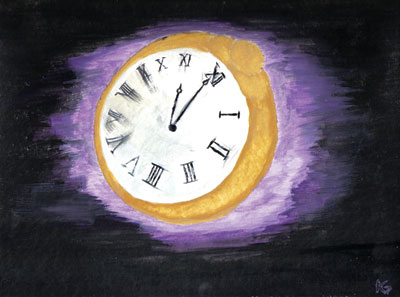 © Kyle G., Clarksville, TN