Hollywood
October 3, 2012
My tensions grow stronger with each timid, clenched toe steps taped to the cold cement floor. My heart is pounding loudly in my chest, eager to crawl out of my very throat and flop away as my legs only tempt me forward. Terror strikes my very bones with each under the eyelash glance, towards the dark room with the flickering lights and fog covered floors.
Baboom . . . Baboom
"I must have a death wish," I think to myself, with my eyes pinched but beholding all. The green light succumbs me with its unwelcome presents and I shiver. The doors clang open, and I clutch to Megan's arm more closely than before, squeezing it red. We walk steadily and with great caution into the awaiting seats beckoning us into the dark.
Baboom, thump…thump
I begin buckle myself securely into the chair, as my hands shake with terror, and praying that these seat were bolted down with reinforced metals.
"Megan are you ok?" I ask my blind friend, she answers with a small, strong, and excited smile. Yet her excitement could not tame the fear swelling inside my chest. Megan's father laughs nervously and hardily on the opposite side, and I grab his arm and clutch it as I did Megan's. The lights go out, and we begin to shake. The world turned dark and my blood feels like a frozen river of solid blue ice, yet red but no longer running in my veins.
Baboom . . .
The familiar "Doo . . do . . .dooo . do . ." plays behind my dulled hearing ears. A door appears in front of me and drifts into the dark abyss of stars and night slowly leaving us behind. We slowly move to another floor, where we say goodbye to our own human visage but then stare into the ghostly shapes of our souls, seeing though the people we used to be. Strange apparitions ominously wave their arms towards us, angry and waiting.
. . .Ba. . .
We begin to fall, and shrill screams eco from around my head, and screams succumbed from my own lungs, from the depths of some place unholy. My heart was unsuccessful in its escape, but my stomach has taken its place, as it lifts and falls as the elevator does. The speed sucks me into my seat, soiled in others fear, as we sky rocket high up into the never ending shaft of dark and nightmares.
Baboom
My heart beats faster than before as doors open reveling marvelous lights of the park, bright and welcoming, beckoning us to go its way, but instead we fall into the dark, again into the terror.
Into the twilight zone.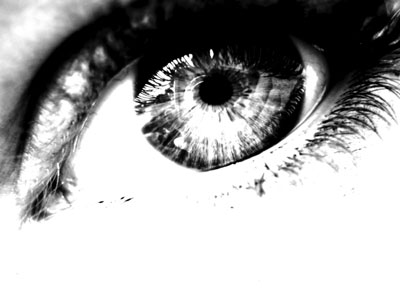 © Lauren S., Reading, Berkshire, UK