L'accordéon expire
May 30, 2013
The wailing howl of the wind reaches my ears through the plaster wall. The wind whips through the trees, tearing leaves from branches, branches from trees. It claws through my mind, extirpating a hidden memory. No longer do I hear the wind, for it has morphed into the mournful sighs of an accordion.

I sit on Papi's bony knees, tired with age, covered only by frail blue pants. He looks into the distance, remembering something unknown to me. He does not move, only sits in the silence of his thoughts, forgetting the six year old child on his lap. And I, not wanting to interrupt his moment of peace, take the time to look around the dark and lonely room. But my eyes cannot stray far from him. He wears his layers of shirts, sweaters, and vests, all grays and blues of different colors. By a magic trick called time, they have all faded, mixing and fusing into shades of blue-grays and gray-blues. I take his hand, but he does not notice. My small young hand holds his; rugged and strong it has seen death and war. My eyes wander towards a small old cactus standing strong in a cracked ceramic pot. Alive against all adversity, living against all odds, it grows in the darkness of the beige living room, next to the empty leather sofa chair. The chair sits beside another one, identical. Comfy and perfect, it waits for its master no longer here; it waits for her to come back, to bring joy, life. I know she will never come back for her time has come and passed. I look up into his blue eyes; faded with age, they brim with tears, until finally a single drop runs down his cheek, followed by many more. I watch, a six year old child, seeing a man breaking under the pressure of memories from the past. So I run out of the room into the dark hallway leading to his bedroom.

As I enter, I seek and find his old tired accordion laid delicately on a pillow of lace flowers. I pick it up, gently caressing its faded gold paint. Its worn ivory keys look back at me begging to played, I run back to its owner. He looks at me, pain and sorrow etched into each of his features. I hand him the accordion silently; not a word flutters from our lips, yet we understand one another perfectly. He plays the old instrument, his fingers gliding from key to key, the accordion crying out its melodies, anthems of souls lost, loved ones unforgotten and uncontrolled grief, until his old arthritic fingers protest. I look up once more and see that the notes have dried his tears. But the look of excruciating pain has not left; it stays, forever haunting his gaze.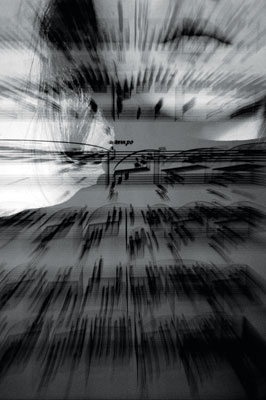 © Sarah M., Blairsville, PA