Petals and Poisons
MAG
September 12, 2014
In the summer I am brainless and fluttery in my pink dress and bare feet and flower crown of innocence. It is the season of playing on the Fairy Hill, of baking homemade brownies, hard as trees and dry as dirt, and pretending they taste good because it's such fun to make them. The days go by like slow sips of lemonade, and I don't know anything except that foxgloves are poisonous and the cat in the bushes will bite you and fairies are out there somewhere. I am silly and spinning, feeling like magic myself, because nothing is ordinary and nothing is wrong. The days are beautiful and I have two grandmothers and I'm not worried. I waste time without even knowing it. Why do I waste so much time?
Poison worse than the foxgloves comes, but I don't know anything. You ask us if we want to see your bald head and my sister runs because she knows to be afraid. But I am dumb and excited and I say yes, so you take off the wig and underneath there are no pretty dresses and no earthy gardening gloves, no glimmering earrings and no blonde hair. There is only bare skin, and this is when I begin to be afraid.
Time goes faster and Dad gets sadder and Mom speaks quieter each time I ask if you're going to be okay. Sometimes I begin to speculate, but I am eight and I am stupid and I don't think about the right things. When the weather gets cold, I'll wonder. If I knew, would I know what to do?
It's winter now and the cat is dead too, so it's me who hides in the furry shrubs, listening to tears and wearing pink again because you don't like black, you didn't like black. I don't know anything, I don't know what to do, so I hide and swirl my fingers in the wet earth, sitting under the pearly gray sky and thinking that maybe I spent my time with you all wrong. Did you even know me? Did I show you who I am? Or was I just silly and senseless? If I had been the one to go, how would you remember me? How do I remember you?
By spring I'll hate myself for thinking about my new dress on that day and wondering what jewelry would be mine and wishing I could drink soda straight from the bottle. I should have been asking the questions I had and crying when it was okay to cry, because now it's too late to talk about it.
Now new life is finally starting to grow, but I still feel like an uprooted sapling. The world is a woman in green, and I'm a girl who wears black, and maybe you wouldn't like that, but I'll never get to show you who I am so it doesn't matter. I'll never be sure of anything, but I don't think you would care what color my clothes are as long as my heart is colorful, blooming beautiful as your garden. And sometimes it is, but sometimes it's cloudy, and I wonder if there is poison in me too.
I don't know what's inside of me, or if I ever will, but I know that there's something, something and it tastes like summer, sweet as the memory of burned brownies and rich as the seed-spotted earth.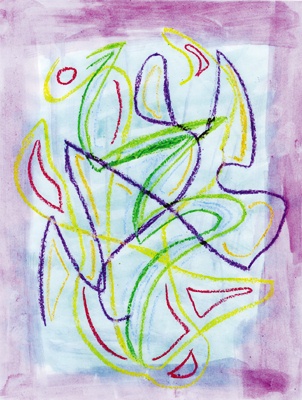 © Annie P., Milford, CT