THH: Besties, Riiiight
March 12, 2016
You should never tell on a third grader's crush. Especially not mine. But on that fateful last minute of the last day of school, with papers shuffling, bells ringing, my best friend declared my crush to the entire class.
Luckily for me, summer was right around the corner, and nobody was listening. My friend seemed to find it funny. And any trust I had in my best friend's ability to keep a secret evaporated before my eyes.
But the problem was I always wanted a best friend. I needed someone to pour my raw, unfiltered thoughts and dreams into, and was more than willing to accommodate with theirs. I was convinced that all I needed to do was find the right person. He or she had to be out there. Once we met, our adventures would begin, and so would my life.
And I was impatient. In the manner of other magical encounters, I was ready for the charisma and chemistry to kick in immediately, and suddenly know that I was equipped with the only other person I would ever need.
But my grand plans seemed to be doomed from the start. I was quiet, erratic, and unbearably shy; after I moved, life seemed to complicate itself, and I reached out to others even less. Alongside my yearning for a best friend was the wish to be alone. After all, the time I spent with others was overwhelmingly lonely, where I became so nervous I could barely speak. My desire for a soulmate, a confidant, increased.
But that person was nowhere to be found. My hopes were fading fast. By the time I entered high school, I resolved to focus on the crazy AP class I had signed myself up for, and nothing else.
I struggled to understand why I wanted a best friend so badly in the first place. I hardly spoke about my family to my friends, and I didn't talk about my secret obsessive hobby, writing until my brain went numb. My pathetic love life was certainly off-limits. I was resolved that no one would ever know the true extent of my embarrassing middle school crushes, fretting over what would happen to my childish secrets when they left my shaking hands. But as time flew by and the colors of my life changed, I began to wonder if I had already come across that person, long ago.
My other half; my imaginative sidekick. She had been there all along.
I found myself choosing to spend more time with her, getting to know her better. And about a year after making my stunning discovery, I found myself enjoying her company immensely. It was always there, after all.
She was myself. Realizing that I could be my own friend wasn't as cheesy as I thought it would be--in fact, it was astonishing. Finally, the safety net I had frantically searching for in every crowd became my own; the gripping insecurities of finding friends, making them, and then keeping them suddenly became approachable. I felt strange, because I wasn't nearly as nervous. Around others, and around myself.
Of course, our relationship has not been easily. Several times a day, it is tested, thrown in and out of the frying pan and back. I always hear her voice in my head.
But she always replies, always full of expressions and ideas. I would hope, that after some time, we might even be able to call each other best friends.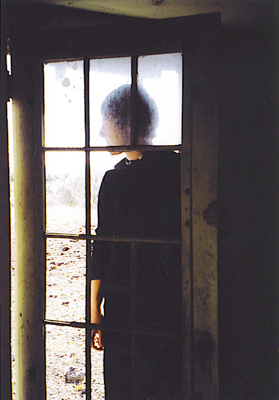 © Lindsay S., Billings, MT