THH: How to Properly Smile at Yourself in the Mirror
September 24, 2016
It's always weird when I realize I do something. Have I always done this? Do I do it too much? Do I do this in front of the guy who sits two seats behind me? Usually the something isn't too bad. I've probably always known, somehow, but recently I noticed that I smile at myself in the mirror. I smile at myself! All the time. In the mirror. With no one else around.
I've got a couple smiles. One of them is to "test out" my smile. I've never been able to quantify it, and that's probably why I do it all the time. I can't decide if it makes my head look like an egg, or if it properly elongates the intelligent glasses and sparse, but well-educated brows. One thing we can all agree on, however, is that my smile is huge. It breaks up my face and turns my eyes into little half-suns.
After I've done a couple smiles, one without teeth and one with super big teeth, I move on to a few weird expressions. They go by pretty quickly and usually there's a movie monologue going on in my head. Every few thoughts, I'll say a couple words and pretend I have been smartly cast as Éponine in Les Misérables. I make a full examination of the left side of my face, noting any new arrivals. And then I turn on the shower.
As a person who drinks a lot of water, I often find myself in the bathroom, washing my hands or messing with my lipstick. I notice the other people around me. They don't get to see my smiling face, of course. But I certainly see theirs--their face, some makeup, and usually no smile. The expression is almost identical across faces. As soon as they recognize themselves in the mirror, they put on the face that fixes everything--chin down, eyebrows up, bigger eyes, and sometimes puckered lips. They look at themselves, silently communicating across the mirror. After both reflections have settled, they grab their bag and walk away.
I don't think too much about the faces I make when I'm alone. They're entertaining and weird (mostly weird), and it's fun when I make them. But I force myself to smile. I do it always. When I do, it's a bonus to see my own face light up. After a long day, it's nice to know it is always possible to smile. Even if I'm sick, and sound like a vacuum cleaner when I try to breathe.
A teacher mentioned that research shows smiling might also work the other way around--the physical action can make you happy, even if you weren't to begin with. Or, at the very least, it's a pleasant way to start your day. After minimal hours of sleep and school around the corner, you flip on the lights, and see your own face smiling through the glass. It is entirely possible to be bright. And then you begin.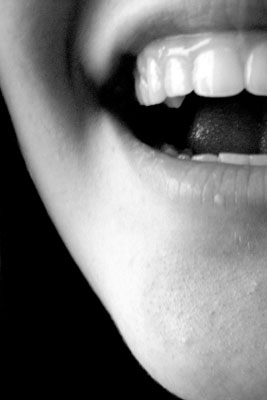 © Katya K.