THH: Advice for the Reluctantly Optimistic
November 6, 2016
My sister once told me that I am one of the most annoyingly positive people ever. After all, every Monday is How was your weekend, every Wednesday Happy hump day, every Friday Happy Friday, with the occasional Happy Halloween.
It never occurred to me before. I just thought I was quiet, which annoyed me more than anyone else.
But being positive is a choice. The prospect of starting school again in August was genuinely worrying. And when it did, the first thing I noticed was how tired I was. I successfully complained about being tired before, probably because everyone else did, but it was only starting sophomore year I started getting five-hour-nights of sleep. I was getting seven now and still felt like a noodle. And if there was anything I couldn't do when I was feeling like a noodle, it was talk, and after being talked-over for a while, I go quiet for good.
So I kept my head up in other ways. Math homework became karaoke night, where I bawled out Taylor Swift to parabolas, and grooved around to photosynthesis worksheets. I poured all my efforts into cultivating recyclable, sustainable small talk, and consumed chocolate at alarming rates. Even now, I "power ballad" through my day, chanting tunelessly to every refrain.
Otherwise, every day was too much. I had seven classes and way too many smart classmates. It's easy to think back a few years ago, or second semester of freshman year, which was easily the singularly most miserable period of my life. I was pretty intent on being miserable, too. Every day was underwater. I didn't talk, I couldn't smile, and I felt utterly and ridiculously silent. I cried constantly and got mad for no good reason. For all I knew, it was because all my classes had switched, and suddenly all my comfortable niches disappeared. I repeatedly played "The Lonely" by Christina Perri on my phone for emphasis.
But all jokes aside, it was a bad time. I felt boxed in by concrete on all sides, but also inside, where I was frozen in place where the sand was poured. Looking back, I knew I didn't want to hit rock bottom again.
So I do other things. I find other ways. My mission to be a mostly happy person has become a constant, almost tireless operation, but it has its perks. I can fall back on myself when I need to.
A few weeks ago in my French class, we were supposed to talk about goals we had in life, using the existentially-themed vocabulary for the unit. For once, I didn't come up with the angry, writer-crazy goals I usually do. D'être heureuse, I said instead. To be happy.
And now and then, a little optimism doesn't hurt.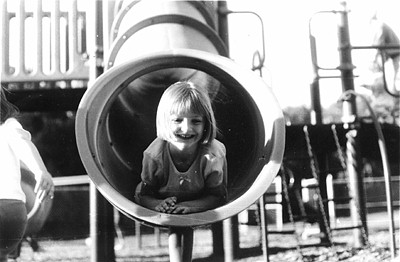 © Lara C., Norwalk, CT