THH: The Mulan Crisis
December 30, 2016
A live-action Mulan is in the talks, and given the criticism of whitewashing Asian roles in Hollywood, like the Ancient One in Doctor Strange and Ghost in the Shell's Scarlett Johansson, there's quite a bit of pressure for this Mulan to be made right. Especially after the phenomenal success of Cinderella and Maleficent, and what promises to be a glittering, gorgeous Beauty and the Beast in 2017, studios have promised the film will feature a completely Asian cast.
If you were to ask me on the street, I'd say Yeah, great, representation man, before beginning a stuffy rant on why The Little Mermaid should be the next live-action Disney film, since it's about darn time and we have the underwater film technology to do it anyways…
And yet promoting representation in film, especially that of my own race, Asian, has been a somewhat vague, academic passion. I don't connect to it personally, but it sounds right. In theory.
And here's where it gets weird. I'm not crazy for it. I'm actually dreading Mulan coming out in theaters, with its promised Asian cast and overwhelming cultural correctness. I've never felt truly, spiritually Asian, which is bad news all around. It could be because I'm not very Asian to begin with. I'm not cute. I can draw stick figures, maybe, on a good day. I didn't go to Chinese school to learn how to write and speak Chinese. I don't know Kpop. I certainly can't sing. And there's a reason my grandfather begins his political rants saying, You probably won't understand this, but…
And if there's one thing all Asian Asians know, it's that there's this one sort-of-Asian Asian who keeps butting into their conversation and making it less Asian. After a while, they just stare at me, as I stare back.
Asian actors have always made me a little uncomfortable. I couldn't place it. I loved Harry Potter and the Goblet of Fire to pieces, but I couldn't like Cho Chang.
Sometimes I feel obligated to swing the other way. If you think about it, maybe it's not okay I'm fine with white actors and actresses, with a few black people sprinkled in. Shouldn't I be fighting to see myself on television, the archetypal Asian-American teenager in love with movies but also Taylor Swift?
But they seem to rub off as caricatures, Asian for the sake of being Asian. Still, it is distressing that for the longest time, I wanted golden hair and bright blue eyes, and felt literally muddy sitting next to my white classmates. There was nobody who looked like me, in most American film and literature.
So if I don't like how Asians are being represented, or how Asian Asians want to see themselves represented, maybe I should quit running off my mouth. In the politically correct minefields of YouTube and Twitter, there isn't much room left for undecided voters, and righteous posts continue to get the most likes.
Only Mulan will tell, in winter 2018.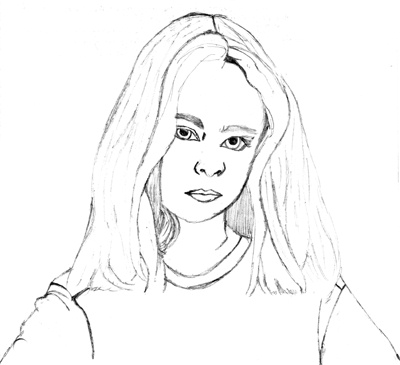 © Mary K., Natick, MA