THH: The Sound of Silence
January 14, 2017
In a matter of minutes, I'll have learned everything from how to crimp my hair, cook a chia salad, snaps of Paris Fashion Week, Moana memes, Hamilton memes, Kendall Jenner's dress, Tumblr threads, to the latest fan art of Game of Thrones' season six explosive finale. And that's just Pinterest--sometimes I get lost in the fathomless depths of Facebook and Twitter, my feed dominated by Tasty cooking shorts, Vogue gossip columns, and my Friends' personal drama. After liking a few profile pictures and saving some links, the page will refresh, and I'll see Insider's scoop on the longest pizza ever made, the coolest building in Dubai, the most efficient way to put on socks, not to mention toddlers singing Taylor Swift.
By then, my head will be spinning like a disco ball. I'll feel tired, a little lonely, and wonder how on earth I just wasted half an hour.
I tried to shut some of it out over winter break. Whether that meant leaving my phone on my bed face-down, shut down, I attempted to quiet the social media that was shortening my day. It could get terribly hard, as I found myself returning to my bed, poking at a button that didn't respond.
Last night, I watched Star Trek Beyond with my mom and sis. After enduring two hours of blasting phasers and galactic war, my head was spinning again (quite literally, where after looping with the U.S.S. Enterprise, I was beginning to feel mildly carsick).
I sat at my desk and tried to think. My phone was at my fingertips. Then I heard the quiet.
Like that.
I began to move again, slowly. I was done with doing everything as fast as possible. I rearranged my desk and listened to a song.
I felt a steady sort of peace--that was rich, authentic, and began to give way to a clear head. At midnight, I was more awake than ever.
I'm never been part of any religious group, so spirituality has always been an elusive topic for me. My mom tried Buddhism, my dad church. And I'm quite committed to becoming an "old soul," whatever that entails. Though I don't yet worship any god, source, or higher power, I suppose, in a way, I am always looking for peace.
Sometimes, that takes me away from the sounds and images that flash at the tap of a finger, and toward objects that move in real time. Sometimes, it's the quiet.
You can hear it now.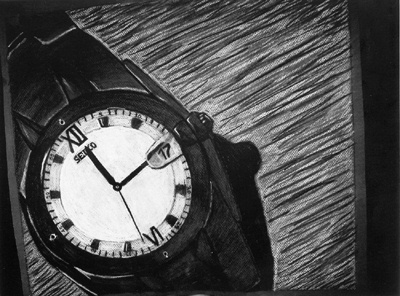 © Rachel U., Danbury, CT