THH: Bespectacled and Bewildered
May 7, 2017
In middle school, if there was one thing I was proud of, it was my not having glasses. Lots of people wore glasses, and all my Asian friends wore glasses. But I did not wear glasses.
My friends could start period-long conversations about the glasses they wore. They compared prescriptions; lenses; styles. They also talked about contacts lenses, and slowly, the glasses disappeared.
But I did not wear glasses, or contacts. I was so proud about it I regularly spoke up.
In December, the eye doctor concluded, quietly, that I should get glasses. So should my mom, and my sister, although she was changing her prescription. But me, glasses? It was unimaginable. And I would rather laugh than cry, because it seemed I had ruined my near-perfect eyeballs with all my reading and writing.
Soon, I was trying on pairs of glasses, and buying pairs of glasses, and swiping a glasses case from my sister to keep them in my bag. I still call my them my "part-time glasses," because they work part-time, for reading and writing.
A long time ago, my aunt told my mom that everyone in my cousin's class ended up wearing glasses except him. They studied that much. And I distinctly remembered thinking, Ha-ha, sucker, before whoop, I got glasses.
So, now I wear glasses.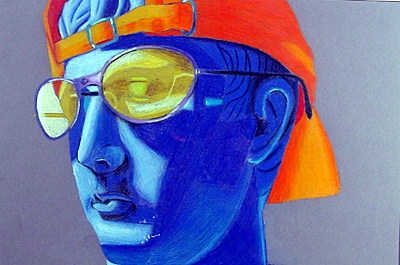 © Elizabeth C., Spartanburg, SC