How To Spend Family Time
May 28, 2019
The night was unlighted and chilly. I felt like a grown-up even though I was just ten years old. We took our luggage and left the airport. When leaving the airport, I saw a huge sign that said, "Welcome to Florida." I felt thrilled of knowing I was visiting a new city but my brother Mateo could not maintain his tiredness and fell asleep in the car. My father was working on the GPS arrangements and started to stress out. "Dad, do you mind if you hurry? I'm not going to wake up early tomorrow," I told dad.
My 7-year-old brother Mateo was already asleep. Once we got to the hotel, I dropped myself in the bed and woke up with the same clothes on. I took a bath and changed. After two hours of driving, we arrived at the first park called Busch Gardens. I was quite impressed with the size of that park, "Mateo are you ready for the most exciting thing you've ever done in your life?" I muttered.
"Well, I won't go on those frightening roller coasters." he replied.
Our day was filled with excitement and thrilling things. We all went to most of the attractions. "Oh my God, my brother is such a scary cat, I don't get why he is scared of most of the attractions!" I said to myself. Mateo didn't manage to go to all the games because of his size, and his fear of roller coasters but from those attractions that he could go, we went two or three times. He sometimes would lift his feet in order to be able to go to some attractions. Fortunately, no one found out what he was doing. Our day at Busch Gardens was incredible. Later that day we ate lunch and hang out, you know, as a family.
"I love this place!" Mateo said.
"Yeah little brother, I agree with you, we get to spend more time together, without fighting."
"Oh, haven't thought about that, but it's actually true. In here we don't fight a lot," I replied.
After we went to most of the attractions we knew our day was over, we went to the supermarket and bought some food for the next day.
"I love you guys," my brother Mateo said.
"By the way, do you miss mom?" I asked Mateo.
"You kidding? I'm having one of the best days of my life, what makes you think I miss her?" Mateo replied.
"Well, I thought you were going to cry because she wasn't here," I said.
"No, I ain't a little baby anymore," Mateo suddenly replied.
The next morning, we went to a park named SeaWorld, which was almost the same size as Bush Gardens. My brother suddenly opened his eyes wide and his mouth and stared at the roller coaster, "Jo, Mateo, you okay?" I asked. We were in line for the scariest roller coaster we'd ever seen. It was called "La Manta" It was tremendously huge, at least 50 meters tall. We waited for hours, but then those hours became decades for us. Finally, we sat down, buckled up and in the sky we were. After this amusement experienced we went to eat lunch, which was kind of the best part of the day.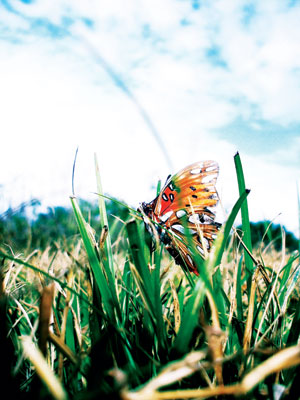 © Ashley B., North Port, FL