first funeral
May 9, 2009
This was my first funeral that I ever could remember being too. I had three main thoughts buzzing around in my head like a swarm of bees. First I was furious at my mother for promising we would go to the hospital but we never did. Second was I was the stupidest person there because before this I thought funerals were reunion. Third I could tell by the tears rolling down my face I would remember it all.
So I sat down in what I guess you could call it a lobby or waiting room. They were serving chocolate chip and sugar cookies. We sat there for what seemed like forever so I eventually started to wonder why my cookie wasn't sobbing wet from the tears rolling down my face. Then the thought hit me this was the worst spring break I would ever have. I turned my head toward the door wear my dead grandpa would be laying. The doors opened two by to we all went in. as soon as you entered it was there….
A picture board of everything I could think of. This made my tears gush out faster than a horse going 100 miles per hour. There where pictures of him, of me, and of me and him. There was a picture that we had taken just that morning it was me, Katelyn (cousin) and Jared (brother). There was one picture everyone was standing around a picture of him in his navy military. He looked so proud in that picture not scared at all.
So when I was done gazing at the pictures my dad pulled me away was standing with him and my brother we were just keeping to ourselves. I did not mind this because I didn't know a lot of these people. My red faced mother came to me. I could not laugh because my face was worse. Well everyone's face was red. She had a question…
She asked me if I wanted to go up to the casket and look at my grandpa. My dad whispered "you don't have to I know I can't do it." I thought about it for awhile then I took her hand and said "okay". Then I saw him lying there so peacefully. I instantly started crying even more. My grandma was right next to me. She let me hug her know when I let go her clothes would be soaked same with my mother. Then the preaching began and we all sat down to listen.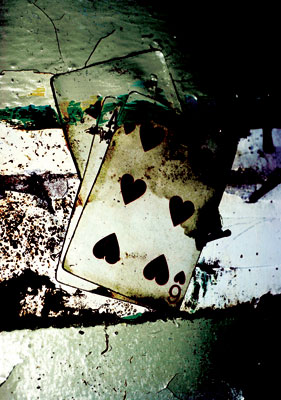 © Tracy A., Scarsdale, NY