Always Believe in Mothers
April 9, 2021
I have been a student at TIS for the last three years now. I really love it here, the teachers, the students, the campus and everything. However, leaving my old school and transitioning to this new one wasn't so easy for me.

I had never changed schools before; I was quite happy where I was and comfortable with everyone, but my mom thought it was time for a change. My mom wanted me to get better at writing essays and improve my skills which was something I wasn't working on at my previous school. I've always preferred social sciences over exact sciences, but until sixth grade, surprisingly I hadn't written one formal, descriptive and overall great essay. My mom was right. I had to start learning more about writing, since it was a passion of mine. It also is a very important skill to have because it is needed in every future career and path that one might follow.

Following, I didn't want to leave my old friends. I had been with those friends since first grade, and I thought that if I left school our bond wouldn't be the same. The summer of 2018 was stressful for me. I was feeling sick and anxious thinking that I wouldn't make any friends at my new school, and that I wouldn't fit in or adjust. I would always tell my mom, "Look at me, I am sick of all this stress about my new school. I haven't enjoyed just one day of summer because I'm constantly thinking about the end of August, which is the start of school. I know I won't fit in and I know I will lose my old friends and make no new ones." Then I would go in my room and start crying. We would start fighting and arguing, but then my mom would just try to come to me and tell me, "Everything will be okay, believe me."

Then, first day of school came. We were going on a retreat to Shkodra, a very nice city in the north of Albania. I hopped onto the school bus and saw the happy looks on those faces that I had never seen before. As I was looking for a place to sit, a young girl, looked around the same age as me, offered to sit next to her. She had blonde hair and sea-blue eyes. I remember her fun and colorful backpack with cats, which she loved, carrying her favorite snacks which she offered to share with me.

When we arrived to Shkodra, we did so many fun activities; we camped outside in tents, went swimming in the lake. The weather was wonderful as well and we were having a great time. I met a lot of new people from different places. It was very nice to hear about their childhoods, cultures, and backgrounds.

After one week of school, I was feeling amazing about it. I was enjoying the learning process and having fun with my many new friends during recess. With a little persuasion from my mom at first, or maybe more than a little, I knew I had made the right choice coming to TIS.

One thing that I realized after this change is that I should believe in my mom more. I now see that I had been harsh on her, she was just trying to help, and she only wanted the best for me. I'm glad that she pushed me into doing this.

Another thing is that before, I didn't trust myself as much as I should've. I thought I was a shy girl, but in the contrary, I found out I'm a sociable girl. However, I was right about my friends from my old school. I wasn't in touch with all of them anymore, except only with two, and I'm grateful for those two. I understood who my real friends were.

After all, everything we do, every part of the journey of our lives, every change we go through, positive or negative, makes us learn more about ourselves, and understand who we truly are. That's why I believe coming to TIS was the best thing for me, not only academically, but also finding more about myself.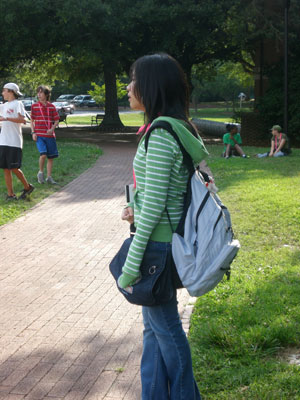 © Lucienne B., Parkland, FL