2021 Kindness Contest - Nothing and Everything
November 19, 2021
My mind is drifting, dazed by the artificial blue hue of the lights. The once empty desks, which gave off an inescapable feeling of a barren landscape, are now filled with unfamiliar faces. It's our first week back to in person learning, but I don't even attempt to keep my focus on my new surroundings. Instead my head keeps drifting back to what had happened only a few short days ago, the idea never really disappearing farther than the back of my mind. I'm in the room, but I'm removed from anyone and anything happening next to me.
"Hi"
Her eyes are magnets, the captivating force of intrigue and curiosity expressed by the seemingly infinite vastness of their dark brown shade. My vision instantly darts toward them, and that split second morphs into an eternity. An eternity staring into a galaxy devoid of stars, and yet their absence doesn't cost the image it's sense of wonder. A blank mask conceals the rest of her face, but it doesn't matter. Her eyes show boundless nothing, yet her eyes are everything.
Lost, I stumble out a reply, and eventually her gaze slowly pivots away. But the inescapable marvel inherent in her eyes lingers long afterwards. What had racked my brain for days on end, now suddenly was gone, replaced by a new fascination. The fading anguish now substituted for interest. Her simple "hi" was nothing, and yet it meant everything.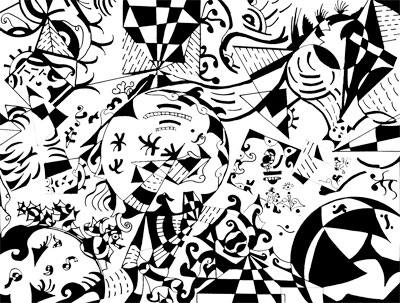 © Jennifer K., Richmond, CA