Old Friends for New Friends
July 26, 2009
I was so tired when I came home from the county fair I wanted to go to sleep right away but I knew the horses needed to be fed first. We put dinner in their stalls. One at a time they came in. As I closed the stall doors, I realized one was still empty. Panicked, we ran to the pasture. There he was lying down and by the looks of it barely alive. My mom ran inside to call the vet while I stayed to keep an eye on the horse. While we waited for the vet, we got him to stand up and walk a little. A horse that might have colic should not be allowed to roll. Cody was all I could have ever wanted. He was smart, funny, and a little sarcastic. That one day changed all of that. We spent several agonizing hours while the vet tried to save him. After those endless hours the vet came to the conclusion that he could not be saved and it was cruel to do any more to him. I went into the house while he was being put down so I did not have to watch. All that I have left of him is a piece of his mane, his halter, and the memory of happy times. It was the saddest thing that ever happened in my life.

I needed to search for a new horse even though I knew I could never replace Cody. I looked at many horses. One horse stumbled a lot and I did not think buying her was a good choice. Most of them did not seem quite right and I wondered if I would ever find the right horse. The worst experience of all happened when I was trying-out a horse at a nearby park. The owner put my brother and I on trail horses and let my brother go ahead of me. My horse wanted to be first and went ahead into a full gallop. As I tried pulling on the reins, I realized that didn't work. I screamed at the top of my lungs. This horse was out of control and I was on him! I had two choices jump off, then tuck and roll or stay on until I figured out how to stop him. I chose choice number two. After about three hundred feet we hit a crossroad and he stopped not knowing which way to go. I got off him as soon as I could. I have never been so relieved in my life. It took almost an hour to get my heart to stop racing.

I was ready to give up riding completely but a few weeks later I decided to try one last horse. When I saw him all my fears melted away into his big brown eyes. His multi-colored face made me feel wonderful. His black gorgeous mane flowed in the wind as he walked out. I thought I found the one horse I was looking for so I got on him despite my fears. He was careful with me and after my last experience that meant a lot to me. He knew I did not trust him at first but he made sure that I trusted him in the end. When he felt me tense up going down a hill he slowed down and kept his footing. He was confident and steady the whole time I was on him. After that ride I knew that he was the right horse for me.

Jasper means the world to me now. I love him and he loves me. I ride him as much as I can and he always gives me a boost of confidence when I am starting to feel timid. He is the one I come to when I have troubles. There are no secrets between us. I can tell him anything and I know that he will never judge me or share my secrets. I cannot imagine life without him. Even though when Cody died I was devastated, sometimes good things can come from bad things. Cody was an old friend who took care of me. A part of me will always miss him but in losing him I found Jasper. Jasper is a new friend who has taught me how to be a better rider. He is my perfect horse for who I am now.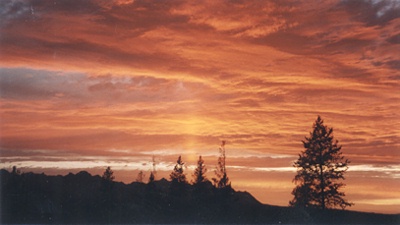 © Katy B., Challis, ID