with the punchbowl as my witness
October 5, 2009
We had arrived breathless and stylishly late. Eyes lingered as our dresses radiated the adrenaline pumping underneath. My bare legs embraced autumn's chill – tanned muscles whispering a summer story that had faded with the month of august. Time went in strange lurches; everything around me seemed at a standstill one moment, but rushed past me in the next. It was certain and indefinable and incredibly real. It felt like a night I could scoop up when it was over, in the folds of my dress, and hang it in my closet for safe-keeping.
At the edge of the dance floor, clusters of guys stood awkward and unsure. I split from my friends and approached them; tonight I was an offered gift wrapped in lace. Under the glare of strobe lights I could be anything: shed the homework – the weight of school; each curl on my head portrayed a separate possibility. Taps on my back evolved to intense spots of dancing, the swelling and rising, hip against hip. In between invitations and outstretched arms, I'd locate someone myself, with a self-assured grin I'd secure myself for another song. I was indifferent to the identity of the arms wrapped around my waist, and savored being held.
Sometimes the discs would skip – a fluttering bird with lost footing – the crowd moaned and grumbled in the DJ's direction. I counted beats in my head and draped myself in music with each twirl of my feet. A voice fought out of the speakers, its sentences struggled to form over the roar of music and kids. The last song was announced, and each person grabbed for the person they valued enough to share it with. I saw your eyes first, and then you were reaching over heads, fighting the mob I had sunk into. You had stripped off your dress shirt to the t-shirt underneath. I felt how you were damp with the body heat of others. We folded into each other. Notions were suddenly set into stone with the way you had come looking for me, the way you were grasping me now. I was unsure whether I could return the affection. Instead I quieted my mind and allowed my body to collapse. We synchronized our rhythms in the deafening hush. With my head nestled into your neck, the room fell away. Your hands on my sides, sent chills up my spine. I turned into the stare of one of the boys I had come with, disregarding his partner, dancing me with his eyes. I shook my head and laughed into your chest: why would anyone want this bemused mess?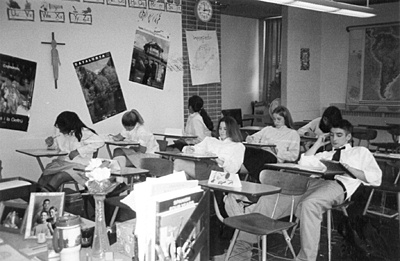 © Fox V., Whitesboro, NY