Ordinary Horror
November 8, 2009
Breathing heavily, my toes dig into the sharp ground up rocks that sift at moments notice. The monster roars slamming down in a big blue and green blur and spraying yellowed foam into our faces. Invisible to the people around us, we hold our ground prepared to fight the battle. Icy water swirls around our ankles grasping like tiny children's hands, the monster wines and becomes more vicious. The happy hands turn to brutal shoves as the monster tries to capture its kill. Mother's cry for their children to come back but we continue forward prancing and taunting the already angry monster. Another crash and we are shot with violent watery pellets, which knock us from side to side sweeping our carefully placed feet out from under us. Arctic water surrounds us: numbing and skillfully quick. We stand unmoving until the monster lulls for a quick rest; then we make our move. As fast as a cobra we strike propelling our legs against the concrete water. The monster awakes once again stretching its mouth as wide as it goes making its white foamy fangs visible. We run faster toward the monster pushing our slow bodies forward as our minds race ahead. Closer and closer, our muscles burning, our breathing labored until the monster looms over us.
Then we jump, diving into the monster's open mouth.
We are submerged in complete darkness, not a sound but the monster's icy children whispering an unspoken language around us, and the invisible sound of our hair swishing and twitching as it is tossed with our helpless bodies. It is black and freezing. The monster's vain children are numbing our limbs until we have no desire to struggle any longer. I claw at the monster but it grumbles contently for there is nothing to claw at. My legs thrust for the sand, but there is none. They want us to be at peace, what a selfish wish, yet neither of us can help but be. Bubbles escape from our lips, then we are tumbling; the earth and light asking for us back. We spent but a second in the monster's world, yet it is enough. We both cough, free from the monster's clutches and the darkness. The sounds are jump-started and lively, our eyes are open wide. We stand side by side unnoticed in a crowd of people, my breathing just as hard as hers. The monster roars unhappy with our uncanny escape. I shake my hair clean of the sand and laugh slightly.
Lets go again, she whispers and we stalk off again to flirt with the monster and it's chilly children.
Just an ordinary day at the beach.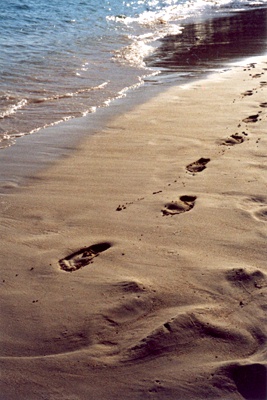 © Ashley B., Potomac, MD