Sunrise
November 8, 2009
Looking out my window, I was taken in by the dark silhouettes the astonishing trees made on the perfectly even dark blue sky. The sun was rising, something I was never lucky enough to see. The alarm bleeped, 6:15, but that didn't matter, and I had been up since three. My eyes focused on the view out my window while my body rocked with spasms of pain. I sat upon my dresser, looking quietly out as the entire house slept silently. The copper of the rooftop glistened with the wet coat of morning dew and the spider web hanging from the chimney looked embedded with diamonds. My eyes slid over the slightly darker roof slates and twinkling ivy climbing up the brick. The night had doused everything in a thick blue slumber, making it easy to mistake the crisp white architecture for a more relaxing blue triangle. The sun slowly rose through the trees, turning the sky from aquamarine to lemon-lime within minutes. My eyes were glued to the forest, the gaps in the trees making the perfect window for the millions of shades of the sun. Two twin birds, dark shapes against the sky, flew together across the patch of turquoise lawn. Tired headlights flooded the dim street, giving a new tint to the orange lampposts: someone returning from a night shift. I sat their fighting the agony I felt when I tried to move my inflated head. Suddenly, there was a creak and my little sister walked in. 6:45, time for her to go to school.
"What are you doing?" she asked, looking at me like maybe I really was mental. Perched on my dresser, I simply replied, "Watching the sunrise."
"Why?" she asked stunned.
I turned to face her and said sternly.
"Because, I can."
I then turned back to the window but the sunrise was over. In the blink of an eye, you could miss the entire thing. It was then I recognized the truth of it.
Everyone can see the sunset, but very few will ever want to see the sunrise.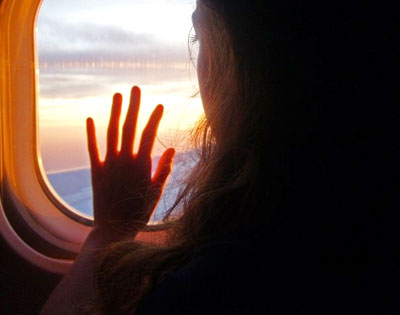 © Megan C., Nashville, TN