To Understand
December 18, 2009
I sit timidly in my desk, enveloped by my blue, zippered sweatshirt, which holds me back from sinking into the great divide between those wearing Abercrombie and those poor souls wearing anything else. I am discretely listening to a mass of girls from my class blabbering on about God knows what.
"No," says Eliza, passing her chubby freckled hand through her ebony hair like a comb. "They are just sooooooo expensive. I mean, if they were marked down a couple hundred…"
"Or on sale," chirps Katie, Eliza's right-hand maven-in-all-important-matters-including-fashion.
"Yah, like, if these were on sale," the queen bee continues, really playing up her audience, as she points to a spanking new pair of jeweled ballet flats on her feet, "then I would consider these a steal." A wave of "Oooh" and "Ahhhh" sweeps across the gaggle of popular girls and wanna-bees alike.
I avert my eyes from the sad sight of Julie, used-to-be best friend, stolen away from me like she was 75% off Juicy Couture, lured to Eliza with free offers and coupons. She struts, five foot seven not including the heels, which have so recently occupied her feet, the smallest things on her save her hips, which sway with the runway swagger.
"How much would these be, if they were a steal?" she provokes.
Eliza turns on her. She scoffs. "Take a guess."
The Red Sea parts so I can clearly see the situation. Julie's famous heels have taken a day off and are now replaced by the same shoes that Eliza wears with so much pride.
"One hundred eighty-five dollars and ninety-nine cents." Eliza must be beat. Julie has the price down to the last cent. I cannot say I'm not impressed. "And for extra credit," Julie has her finger on the trigger. On your mark, take aim… "You got them at Bloomingdale's." …Fire at will.
I inwardly snicker. I feel slightly happy that Julie has beat Eliza at her own game, and the girl that rose from fellow dork-dom is now in control. But it won't last long.
"No," Eliza's lips are pealing back in an evil grin. "One hundred forty-five dollars and fifty cents." Julie now lies dead, killed by friendly fire. "I had a coupon." Julie's triumphant face is crushed. Well done Eliza, run her through with a bayonet for good measure.
The catfight is soon over, though, and the kittens are back to grappling over another yarn ball. Julie has produced another pair of shoes from her locker and, surprisingly, they have heels under three inches.
I'm still sort of laughing about the idiocy of the banter that these "popular" girls enjoy. But I guess it's something I'll never be able to understand, and I'll be stuck sitting in my blue zip-up sweatshirt for the rest of the year. I can't help but wonder, what if my sweatshirt was decked in designer labels and pink?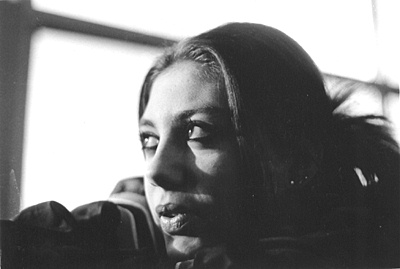 © Michael C., N. Massapequa, NY