Dreams Really Do Come True
January 10, 2010
It was a Sunday. Probably the most anxious one I've ever suffered through…at least until 5:00ish. I wasn't even sure it would happen-my sister had to agree to come along, and she was an hour away from us as it was.

All morning I'd been so excited. I had been for a few weeks before as well. I'd been waiting, dreaming for this day for three years, and I wasn't about to miss it. Around 3:00, I realized how slim my chances were.

Dad called my sister for me, telling her I'd really appreciate her coming along. If she didn't, I'd be out of luck, because Dad didn't want to take me by himself. She left her house at 4:00, and by 5, we were on the road.

It took somewhere between an hour and forty five minutes to get there. I was so excited, I could hardly sit still. I'd never attended anything like this before, I didn't know what to expect. Before I knew it, I we were parking in a lot behind the Crocodile Rock Café. My dream was about to come true.

We stood in a short line…around 50 people, I'd say. After a few minutes, we were walking through a set of doors, down a stair case, then through another set of doors, into the basement. We were welcomed by the sounds of The Pink Spiders, the first opening act. I'd never heard of them before, but fell in love instantly. Another new band, Young Love, came out afterwards, and they were great as well.

We waited for what seemed like an eternity until I saw Benji, Joel, Billy, Paul, and Dean walk out on stage. Tears burst from my eyes, I didn't know what else to do. I was less than 10 feet away from my heroes, the ones that, though I didn't know them personally, had gotten me through so much.

My memory of that night is so clear. I remember the things they said, the songs they sang, and the times their eyes met mine. I remember the excitement I felt as Benji started throwing guitar picks and water bottles into the crowd.

The clearest memory I have of that night is when one of those water bottles seemed to be moving in slow motion, and landed on the floor right in front of me. The immediate rows of girls in front of me looked from me, to the water bottle, and back to me again with blank looks on their faces, and I thought "Are you people nuts?!" I dove down and picked it up so fast. To this day, that water bottle remains on my Good Charlotte shelf, along with concert tickets, and of course, my beloved GC piggy bank.

And then it was time for them to go. As much as I didn't want it to end, I couldn't be upset about it. The one thing I'd wanted more than anything else for three years just happened, and I couldn't be happier. We made our way to the merch stand, where I bought a black zip up hoodie, (an extra small one that somehow still fits me to this day, almost four years later) a t-shirt for my brother, and a pack of stickers and pins. I still have my brother's t-shirt, that no longer fits either him or I. I've never been able to bring myself to get rid of any of my GC merch…the reason is unknown even to me.

As we walked out the doors, my dad and sister looked at me, expecting my outburst of excitement. I thought I'd be freaking out, and I was on the inside, but on the outside I was just speechless. Nothing can ever compare to the magic that was brought into my life that night. To this day, I still consider it the most exciting and amazing night of my life.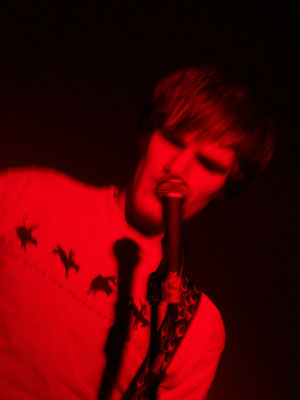 © Katie W., Houston, PA