Love Day
March 20, 2010
The blistering winter air hit my skin, wrapping itself around my body. My winter coat was tucked beneath my arm, but I did not even think of putting it on. My back pocket was bulging with a stack of cards and sharpies, my heart racing with each step. The word "love" was etched across my left arm, black and bold. My camera was lying in the front pocket of my back pack, waiting for friends and strangers alike. I sighed and prepared myself for the questions, the stares, and the brutal honesty which would create my day. The black t-shirt hugging my body was my security, calming the nerves and the fear flowing through my veins. I took the final steps and landed in front of the door, where a faint shadow stared back. My eyes wandered over the figure, a reconstructed girl with hope and honesty painted across her face. She was strong, with an online community as her foundation. She was brave, with a social movement and nonprofit organization standing behind her. She was the girl I was proud to be, the girl who wouldn't have existed without help. But I was only one of the many thousand supporters, together creating the community known as To Write Love on Her Arms.

According to the 4x7 informational card, TWLOHA a non-profit movement dedicated to presenting hope and finding help for those struggling with depression, addiction, cutting, and suicide. But beyond the informational cards and denotation lies a story and movement which has altered the lives of millions. For the five thousand Street Team members, the two million answered e-mailers, and the millions of supporters, TWLOHA is something to live for. We are stories and journal entries, speeches and songs. We are live webcasts, online posts, and phone calls in the middle of the night. We are the splitting pain of memories and lost hope; we are the building bridge between acceptance and recovery. We are quotes from the founder, the team, and the inspiration. We are the darkness growing in the middle of the hallway, the light in the room next door. Our stories are sewn into t-shirts, printed into a book, and plastered across our bodies for all to see.

We cling to the original title shirt, black and white, created to raise money and send a friend to rehab. She was a beautifully broken girl, passing the time with self inflicted wounds and cheap drugs. She clung to her pain and recycled it, day after day, letting the evil spew inside her. He wrote her story, asking for help. He wasn't a savior, an angel, simply a human being. He took her pain and shook it, letting the words fall onto the page. Her story needed to be told, and he had the pen. "It hits me that she won't see this skyline for several weeks, and we will be without her. I lean forward, knowing this will be written, and I ask what she'd say if her story had an audience. She smiles. 'Tell them to look up. Tell them to remember the stars.'" TWLOHA founder Jamie Tworkowski was writing a story about a friend, not a social movement. Yet, his story and single box of t-shirts quickly turned into one of the world's largest online non-profit organizations.

From a single box of t-shirts to $2,917,005 in sales, TWLOHA shirts have created the hope and belief in the power of t-shirts and words. The inspiration, design, and creation of every new shirt comes from our own stories. We are the people, the ideas, and the words which hold the t-shirts together. Every thread is another line on our pages; every stitch is a chapter in our lives. The t-shirts become more than a way to raise money, they become our lives, easily torn apart at the seams, but sewn together with hope and hard work.

The newest addition to the collection of t-shirts, Three Words, combines the original story and purpose of TWLOHA with every story spoken by supporters. The three words we crave are often muttered, yet they do not have the meaning we desire. We want to hear them, to feel them, and believe in them. We base our relationships on them; we dedicate an entire day to them. Yet, most of us go through our lives spitting the words out like they are recyclable. While we all desire hearing it, the three words that created the organization and movement are more than a simple "I love you." The three words, To Write Love, explain the pain, and the solution to the pain. To Write Love on Her Arms, the place where self-injury and broken wounds made their home. To Write Love on our arms, in our lives, and through the pain of our pasts. The three words printed across a t-shirt are more than a slogan or a title; they are the action and the movement. Without the original story and the original title shirt, there would be no community, nor global awareness and action.

An online community of over 15,000 people does not make a dent in the population of the world. Yet, when 15,000 people join together on one day, writing the word "love" across their arms, on their friends' arms, and on strangers', the community grows, and the movement expands. Across the world, the message spreads from one person to ten, each supporting a cause they can relate to. The cause, which inspires hope and love, a non-profit organization to help those struggling with self-injury and depression, becomes our home. TWLOHA Day is not a TWLOHA sponsored event, it was created through blogs, chats, and groups. The day began with one idea, joining together with thousands of others who struggle with love and pain, spreading the message and giving a place to turn to. Writing "love" on our arms does not make us forget the battles in our lives, nor does it take away the pain. It does not cover up the pain like a band-aid; it does not create a magic force field sheltering us from the world. It is just a reminder, a word which we forget too often. It is strength, from ourselves and from thousands of people who are fighting their own pain and depression. It is a reality, connecting us with every other person who has the word painted on their arm. The moment we write the word on our arms, we become a community, no longer individuals. We become strength and protection, redemption and recovery. In the organization's vision statement, Jamie Tworkowski stated "You were created to love and be loved. You were meant to live life in relationship with other people, to know and be known. You need to know that your story is important and that you're part of a bigger story." When we stand together, online or in person, we are not alone. By writing love on our arms and sharing our stories, we understand each other's pain and recognize our own.

Being a member of the TWLOHA community, streetteam, or by simply wearing a shirt is a sign of our strength. No matter our stories, we look beyond our weakness and admit that we are not perfect. We take the pain and the darkness of our lives and throw them under a spotlight, opening up our wounds and letting people in our lives. Over the past three years, TWLOHA has been at over a hundred events, sharing stories and creating a community. Throughout the journey to a successful non-profit organization, TWLOHA has helped thousands of teens and adults recognize their problems and discover help. TWLOHA is a voice when our words are not strong enough to connect together, a light when our lives are flooded with darkness. It is a movement, joining people together through the most painful times of their lives, building friendships from hope and trust. TWLOHA is the security and comfort of t-shirt, the connection between two people who understand pain and recovery. TWLOHA is the people who believe in it, and the people who trust the power of words. We are a community, rebuilding our lives together and finding the courage to rewrite our stories. We are the lives salvaged by a simple story, no longer hiding in the shadows. We are those who stand together, even when standing alone.

I had a thousand other people standing by my side, speaking up just as I would. I had friends and family and strangers who were willing to listen, willing to tell their own story. I had information cards, with quotes and stories and websites. I had a past, which molded me into the person I was so proud of. I had love, in my heart and in my smile. I was ready to begin the day, ready to step through the door and share the stories which had helped me stay alive. In my head, I was hearing Jamie's words as the appeared on the screen.

"You are not alone, and this is not the end of your story."

I smiled and stepped through the door. Though I was walking into the school building by myself, but I was not alone. I had hope.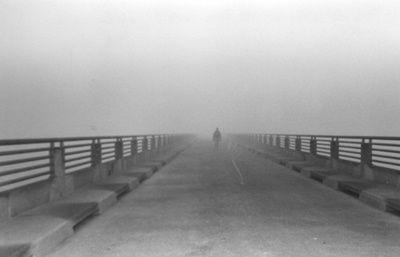 © Becky G.,Westerville, OH