Love is a battlefield.
April 10, 2010
Tears drip down my face, falling gracelessly from long black-and-blonde eyelashes. It happened again. I always knew it would. The people who hold my affections always end up breaking them, like a fragile flower, its petals being torn from it. When will I find someone who doesn't do this to me? Why can't I hold on to what I thought was love... on my part, anyway? God.
This world is no place for a dreamer. I'm merely a girl with moonlit eyes and hair like the sun, catching the light like a candle, illuminating the world with its soft glow. Yet beyond it all lies within a golden heart. Capable of loving so deeply, of such compassion, yet every time I expose that side of me, I get hurt. Maybe I should outfit that heart of gold in iron armor.
I had cried all night before I met him. My eyes hurt from it, every time I blinked was rough and scratchy. I was miserable here, drowning in unfamiliar faces and new names, on the verge of tears the whole time.
It took a while for that to wear off.
When it finally did, the last thing I was looking for was love. In truth, I was still in love with my ex. In my heart I knew we'd never get back together, that it was over for good. But obviously fate had a different idea.
I'd been ignoring the little twinge in my chest-- I hadn't been ready for it at the time.
But I grew to it. I grew to love him. Now we're intertwined, two hearts that most of the time beat as one. I can't go a day without thinking about him. I guess that I've found someone better... because though it may still be a battlefield, the wars are only with myself.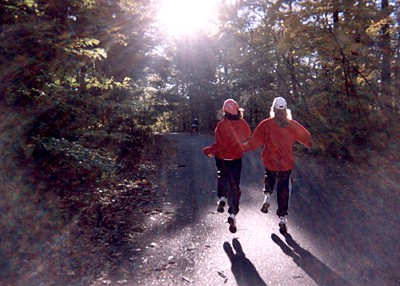 © Jacqueline W., Milton, MA