Fear of Crowds
April 27, 2010
Remember when you were younger and afraid of the dark? Or when you were little and went to your first sleepover at a friend's house and how you were so scared to be without your mom? Now that you are older (if you are older) you probably think how you were so silly to be afraid of such a tiny thing. Also, because now the fear that you had when you were much younger must seem so little compared to the bigger things you must face now.
I, on the other hand, have not overcome some of those petty fears that a lot of people my age have. Just recently I have experienced the worst fear that I have no idea how to overcome. What is it called? The Fear of Performing in Front of a Crowd! The only thing was…..there was no crowd. Well, there was my mother and piano teacher, and the adjudicator; but that's only three people. If you have ever experienced adjudications you will be laughing as you read this because you know how silly it is to be afraid of it. If you haven't, please read on so you will no longer be confused any longer on the subject I have been talking about these last few sentences.
Adjudications is an educational experience for all those young pianists out there. You pay for a ten minute slot and play two pieces of music by memory, in front of the adjudicator. He sits there behind his desk and writes down on a piece of paper what you can do to be a better pianist. I, with my over imaginative mind, was frightened of this.
As I sat there on the piano bench I felt like I was going to puke. As I looked over to my piano teacher I gave her a quick smile as if to say "Everything is all right, I have it under control!" I didn't.
When the adjudicator finally said the dreaded words, "You may begin." My whole body went into freeze mode, and when I'm in the freeze mode, I can't for the life of me, get out. What was I going to do? I had no idea.
My hands started sweating as if they were screaming, "Help!" My brain decided to play scrabble with the notes I had memorized for this horrific occasion. And, through all this, something inside me literally forced my hands down on the piano.
It almost felt like the hand of God guiding me and telling me, "Abby, get over it, you will be fine." Staring at the keyboard, and trying to tell my brain to quit playing scrabble, I felt overwhelmed, and yet, I began playing.
As I plowed through the first song I had no idea what I was doing. It was almost as if my fingers had minds of their own and they decided not to communicate with my brain, which, by now was dying of fear and the question, "What are doing fingers?!" Whatever they were doing, at least they were doing a good job.
When I finished the first song, there was silence. It seemed like a year before the adjudicator finally said, "You may begin the next piece"
This time I had it slightly under control. For some reason it was less petrifying than the first song, which was unquestionably a good thing.
When I finally finished the song there was that familiar sound of silence. Finally, the adjudicator walked up to me, and, after giving the usual compliments, he showed me some pointers on how to make the song sound nicer, which, I wasn't really paying attention to, for I was now stuck in a daydream of how well I did. I prayed for like an hour, silently to God, thanking him that through all my fears I didn't mess up. But really, what would have happened if I did? My parents wouldn't beat me up for making a mistake!. I would have just moved on. So really, there wasn't a reason to be scared.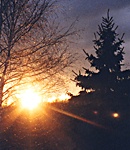 © Christy S., Germantown, NY