One Cotton Candy bag and One Boy
May 28, 2010
The sun lowers in the sky but still baking everything in its path as I push my way through the crowd. One hand is holding a large cotton candy bag and the other a boy. He turns and smiles at me as
we make our way to the Ferris wheel.
Its twilight now and I watch from the small cage as the fair lights shine through the darkness.
The Ferris wheel climbs higher and higher to the top and I feel like floating. My eyes grasp to take everything in. The sounds, the laughter, the bright fair rides, and most of all the smell of cotton candy and Carmel popcorn. As I'm looking around I completely forget about this boy next to me. I glance back and realize he's looking at me intently with a smile played along his lips. I smile back. For this boy I have known for only a week. I look down as his thumb slowly moves back and forth on my hand. I feel butterflies as we reach the top of the ride.

It Stops.
Time Stops.

AS he leans closer to move a strand of hair out of my eyes and his hand lingers longer than necessary. Slowly he moves forward, and so do I. I kissed him on that Ferris wheel ride. My first kiss. He held my hand all the way to the end of the night where I lugged my giant teddy bear up to the house, the one he won for me, and reached my door. I looked back at him as he stood on the sidewalk and smiled up at me with his hands in his pocket. That summer was the first summer I knew Love.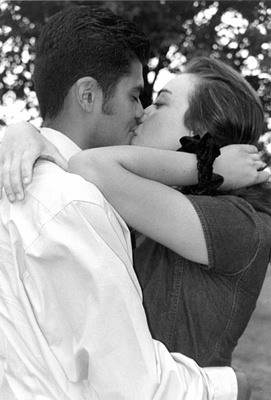 © Yaniris M., Boston, MA