She Only Has One Leg
June 18, 2010
It was a hot summers' day and the air was filled with the scent of freshly cut grass. The trees standing tall in the light blue sky. As the blue jays fluttered their wings through the light breeze, I could hear them chirping a melody. The cars in the distance zoomed by. The condensation dripped down my glass of ice cold lemonade. I was six years old playing in my backyard with kids new to the neighborhood. My mom came out with lunch for us, and one of my friends said, "hey your mom is handicap, she only has one leg".
I never thought my mother was handicap; I never really realized that she only had one leg. As my mom served us lunch I asked, "mom, are you handicapped and why do you have one leg".
My mom put down the tray of food then looked at all of us with a big smile. She was not offended, she almost knew the question was coming. She was excited to tell us the story about what happened. She sat down and rested her crutches against the picnic table. My friends and I surrounded her as she began to tell her story about the loss of her leg.
She said it all started with a fall. The fall revealed that she had cancer. I was not really sure what cancer was but my mom said it all happened when she was five. My mother explained that when she was five she was playing around with her stuffed animals. She was running around when she tripped over them and hurt her leg. She started limping until she could no longer walk. My grandmother took her to the doctors and they ran a test but nothing came back to indicate that there was a problem. The doctor was baffled. He told my grandmother that there was something definitely going on in her leg. The hospital in her home town did not have the necessary equipment to make a diagnosis. The doctor whispered something into my grandmothers' ear which my mother later found out that he said her cells in her leg just do not look right, take her to Boston. He just did not have a good feeling.
In Boston, the doctors ran a biopsy test. The doctor in her home town was right, it was bad; she had cancer. They said the cancer was in her femur just above her knee cap. They would have to do emergency surgery to remove her leg before the cancer spread to any of her vital organs. The next day they did the operation and cut her leg off. My mom said she was only five and did not really know what was going to happen next. When she woke up from the surgery she had a small cast and a long pole for a leg. Attached to the bottom of the pole was a patent leather shoe. The doctor said the cancer spread further up her leg and they had to cut all of her leg off, leaving just a little stump. My mom said she could feel her leg; she could feel the pain, but when she touched it, there was just a cold pole.
My mom said that for over two years she had to go back and forth to Boston. Every other week she would get something called chemotherapy. She explained that this was a drug that killed the good and bad cells, and made her very sick. The doctors would have to give her medicine to help her recover from the chemotherapy. My mom said that the chemotherapy would make her lose all her hair on top of her head, her eye lashes and eye brows.
As my mom told us the story, with my friends all around, all I could think of was that my mom was the strongest person in the world. I tried to imagine her as a little kid and bald, without eye lashes. It was scary because I look at her today and she is beautiful to me, she is my mom. My mom continued to explain that she went go to Sunny View Hospital where she learned how to walk, run and even downhill ski on her new leg. She explained that she was active in high school and continued on to college.
She told us that she got married and had us six kids. She has loved taking us hiking in Yellowstone National Park, Idaho, Oregon, and Washington. I asked her if she was handicap, and she said that she never felt that way because she has been able to do what any other person could. After we ate our lunch my mom played kick ball with us. I watched her lean on her crutches so she could kick the ball with her foot. She kicked it so hard that it went flying over the fence, and my mother used her crutches to run all the bases. My mother kicked a home run that day.
I watched my mom as she crossed home base and I said to myself, none of the other moms come out to play kick ball with us. The other boys may see that my mom only has one leg, but to me she has just what she needs…, only one leg.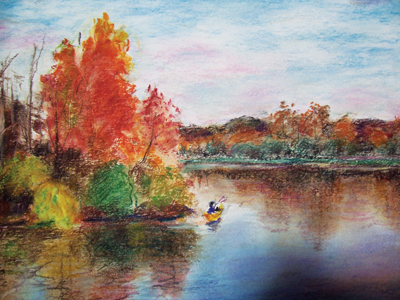 © Xiao H., Naperville, IL