Coke Bottles
July 3, 2010
She told us that she had quit. That she had given up her addiction for good. But for some reason, my grandmother's car was always polluted with the noxious stench of fresh cigarette smoke. We would find plastic Coke bottles on her porch filled with yellowing, decaying water and floating, ashy cigarette butts. I didn't understand. She breathed that into her lungs? That was what she wouldn't give up? That was what she had started? If the water would turn that disgusting, that deadly and putrid, why would anyone choose to put that into their body and rot their lungs? It was just with the times, something everyone did back then. We had to understand. She just couldn't help it anymore.

My parents began to get suspicious soon after the lie had sunk in: she was done, free. Tobacco would never bother her again. But when we went to visit Grandma, the house was noticeably filled with the putrid, sickening odor of dying lungs and premature deaths. The air was thick with the heavy weight of broken promises and unfulfilled expectations. Old smoke, she told us. Old ashes in the Coke bottles outside. She had quit. Why did we still question her?

It was on a summer night in late June that we learned the truth. I was young, too young to understand or sympathize those struggling in the cold, steadfast arms of addiction. Or those who had given up, given in. Like Grandma.

There was a yellow Coke bottle sitting on the table outside. It was paler in color, fresher, with one cigarette poking out of the lip and ashes floating about the water. My sister turned pale at the window. She was older than I was, almost 11, and she had learned all about drugs in her fifth grade D.A.R.E. program. Cigarettes can kill you, she had told me. They give people cancer and rot their lungs. They're really expensive and they make your teeth disgusting and yellow. I couldn't understand why anyone would choose to undergo these symptoms if they knew the facts, and apparently neither could she. Her jaw had dropped and her eyes were glistening. My sister stared at the wrinkled, liver-spotted hand dropping ashes into the Coke bottle like a pro as she might a corpse. In her mind, what was the difference, really? She took a shaky breath and marched to the door to give my grandmother a piece of her mind, but thought better of it ran away, bursting into tears as she dashed back to her room and closed the door. I stood there in my pajamas, not really knowing what to do with myself, and watched. Then I crept slowly back into my room and went back to bed.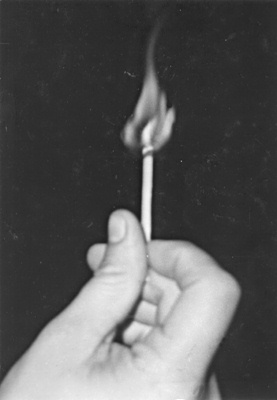 © Stephanie H., Highland Village, TX