Forever
November 15, 2010
"And whoever says that love never lasts?" He said as he looked into my eyes and kissed my lips.

"I don't know, but they obviously don't know us." I said smiling up.

"Forever is a long time." He said.

"But, I'm willing to spend forever with you."

"Me too."

"Are you so willing that you would promise me forever?" I asked looking at his cute smile.

"Absolutely." He smiled widened.

He stuck out his pinky for me to take.

"You know, you can't break pinky promises." I added.

"I won't. I'll even promise to never break a pinky promise." I looked at his perfect eyes and his cute smile. I really did want to spend a forever with him.

I took his pinky with my own and sealed the deal.

"Forever." He said smiling.

"Forever and ever." I said back smiling.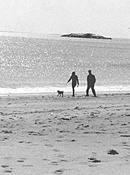 © Megan S., Marblehead, MA