Sadistic Angel
January 5, 2011
His name is Jack and he is a knifing manipulator: He will do anything to get his way. Most people don't stand a chance against him. If he takes interest in you, your emotions will be used against you. You are merely an actor and he is both the director and audience. Jack pulls the strings on your limbs, and you dance around the stage as his own puppet providing him with the amusement he deeply desires. I wouldn't be surprised if he manipulated Bill Clinton into telling the entire story of Monica Lewinsky live on the Oprah Winfrey show.

Oh, but it doesn't stop there. He refuses to lose in any type of debate. Losing would be a sign of weakness, right? The words tact, humane and personal boundaries are all words that are nowhere in his dictionary. He begins by ripping your idea to shreds. The next step is to tear you apart as a person, piece by piece. When the opportune moment comes, he will talk in his sophisticated tone and prove why he is right, and you are an insignificant person representing a view point that is so obviously false. You will be left to pick up the remaining pieces of your shattered self-image in front of an audience of many. Jack proudly stated to me that he made a girl cry during a Model UN debate.

He also hates people his age: Really hates them. He cannot possibly understand why they are all so foolish partying and looking for sex. Nor can he tolerate common teenage behavior. When classmates are buzzing with the latest drama before homeroom, you can find him walking the halls with his I-pod cranked up scoffing at the many gossipers. He once told me that most people are just a burden to society and the world would be much better off without them. He actually planned a society that would test people, and if they failed, they should be killed on the spot. Don't even get me started on what he says about having kids.

If you think that's bad enough, imagine someone who cannot stand the holidays. Although most can't think of a kid who doesn't love Christmas, anybody who knows Jack can prove that they are sorely mistaken. Every year, he gets sucked into this awful black hole of depression during the holidays, claiming it is due to family reasons. Forget even hearing from him from Christmas Eve to New Years; he drops off the face of the Earth completely. Nobody knows what happens to him or what he's up to; then again, maybe nobody cares.

To him, perfection is not only a goal, it is expected. Jack is ranked number one in his class. Most people would be more than thrilled for such an achievement. He hates it. He hates having a ninety-eight or ninety-nine GPA, his goal is a one hundred. One point below perfect is totally unacceptable in his eyes. That is only because one point below perfect isn't perfect.

I wish I could say that he is noble and caring and perfect, but he is none of those things. Jack is real. He will openly admit his cruelty and hatred when asked. Although he won't hesitate to answer any question you ask, there are many mysteries about him that the world can't seem to figure out. Perhaps they are afraid as to what they might find. Well, I am not the world nor am I afraid. I see somebody completely different. I see a boy who trudges to school every day with the weight of the world on his shoulders. I see the daily pain in his eyes that he hides with a horrible façade. I see a boy that is so terrified of getting hurt and feeling any sliver emotion that he tramples over others to gain superiority. I see a boy who is looking desperately for happiness. I see him as a person who understands me more than anybody else. I see him as a person who shares many of the same viewpoints as me. When I look at Jack, I see a beautiful, sadistic angel.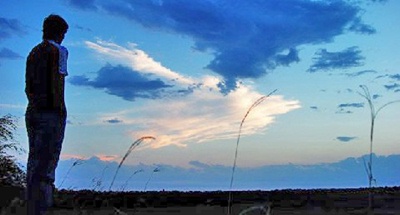 © Stefanie K., Katy, TX