Playing with Ice
March 24, 2011
The definition of ice is no surprise: water frozen in the solid state. There is not a person in the world who doesn't know it.

All my life, even before I came to understand who I am, why I'm here, what my future will bring; all that time, I played with ice. Some part of me immediately knew that it would be safe. Go into the hot sun and it melts. Put it in water and it cools it down. Choke on it and it dissipates in a second.

Therefore, it has always been my favorite toy.

As a perfectionist, it's all I can do to be perfect. This should have given me everything I've ever envisioned, but that hasn't been the case. Practice makes perfect, they say. But how, if nobody is perfect? Even the ice, for all its smoothness and flawlessness. Sixteen years has shown me that.

If only my brain can grasp it.

When I was in kindergarten, I had one best friend. We're still friends today, even though we attend different schools, even though our most common form of communication is facebook. I was shy as a child, quieter than all the other kids. My mother was the one who invited my classmates to my parties. I never tried to have more than one friend.

In my next school, I didn't talk. I'll never know the reason for that. Was it because I was too shy? Was it because that girl in my class pulled my hair and made me cry, embarrassing me into silence? Was it because I was just a loner by nature? Was it because I was scared?

If I were given a chance to go back in time, I'd want to know the reason, because I'm sure it had nothing to do with the reason I'm quiet now.

Here's for some thoughts: I hate it when people assume I'm quiet because I'm shy. Alright, granted, it's what I've told people before, but that premature time was before I came to truly understand who I am.

I first reached teenhood thinking I had some kind of social dysfunction, only this hypothesis got overrun by the fact that I had an easy time making conversation at home, with family members, with adults… When a young child is old enough to be left alone in the mall, that child is expected to be able to survive.

I was given this chance, though the mall was a school, a new school, where I could be whoever I wanted to be. And I messed it up.

Last summer, I went to camp. A strange fact occurred to me by the end of those two weeks: By then, I'd been at my school for four years, trudging through the halls in a daze, books in my heavy backpack, eyes analyzing everything in my path, with only a scant few I could call my friends. That was the consequence of my mistakes in sixth grade. In two weeks of camp, I had made thirteen new friends. Thirteen.

Perhaps, for most, this number is small, miniscule to the large groups they hang out with. So I do have a large group of friends I sit with at lunch. And I do say hi to several people as I walk pass them on the way to class. But did I connect with them as I did with those in camp? Not every one of them.

In such a large body of students, I sometimes feel like I haven't found my place, that I'm an outsider, simply given a glimpse of what my life could have been like had I snagged the chances at friends in sixth grade.

If only I hadn't been so used to solitude. Maybe then, I would start to take charge. Maybe then, I would stop being so analytical of the people around me and just let myself get to know them. Maybe then, I wouldn't be scared.

Someone once asked me what my biggest fear is. I said spiders. That was a lie. In my years, I've come to realize a certain pattern in my way of living, even though it's subtle. It does, however, have a reason: I fear disappointment.

If someone doesn't live up to my expectations, I normally turn the other way. This is the reason so little people know me, and that's because they don't understand.

And I don't blame anyone for not trying, because I don't try either, and I hate myself for it.

I like taking risks: rock climbing, abseiling, hiking, roller coasters, etc. This should make me outgoing; it should give me a balance with others my age, like the fact that I am content with my life, but I want more, gives me a balance with others, even if, honestly, I'm not like others.

More than a few have described me as the powdery snow that falls on the coldest of winter days, never willing to melt, never bringing warmth to those who are made icicles in my presence. Am I the ice princess?

I can be.

Because, where others play with fire, I play with ice.

And when I play with ice, I don't get burned.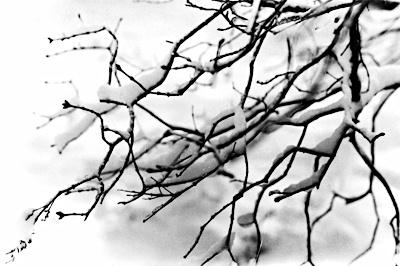 © Lindsey D., Marblehead, MA