I am a chest of secrets.
July 3, 2011
One of them is something my close friend made me promise not to tell anyone, not even my parents, or else she would never talk to me again. It's serious enough that I'm not willing to risk posting it, even completely anonymously.

Another is that I've done some things few people know about. This one, only my parents, my school counselor, and afore mentioned friend. Just this last school year, my first year in public school and my sophomore year, I met a guy. Raised in a believing household with believing friends, I was unprepared for what awaited me. The cussing, the sex, the bad attitudes, everything took me by surprise and I used to cry every day before I left and every night when I knew the day was drawing to a close, and I was that much closer to having to go back the next morning. But slowly I got used to it; I earned the best grades of my life. I even made student of the month in Social Studies. But even though my academic record was almost flawless, nothing could stop my getting used to the norm at school.

Slowly, I started cussing. I talked about vulgar things with my friends, flipped the bird more than I ever had, and even started dressing kind of s*****y for attention from guys and to project the typical teenage girl image.

Anyways, this guy from the school added me on facebook and we had one mutual friend, also from the high school. They were best friends. I realized he was really cute, and we started chatting. Then we started texting. And what we were texting was sexual and inappropriate. The thing was, I actually started to fall for him. So when he asked me for pictures, I didn't exactly say no. There were some places I wasn't willing to go, but I did do some things he asked. His, ahem, 'enthusiastic' reactions to the pictures made me feel ashamed, but when I told him so he assured me that what I was doing was "perfectly normal" and that I "couldn't be a little girl anymore".

The thing was, I knew what I was doing was wrong, but I didn't want to stop. The things he had said had started off mostly innocent, and slowly progressed to vulgar talk, and I told myself I should just get used to it because I had been so sheltered before that some exposure was good for me. But the whole time I knew deep inside that it wasn't, and I kept ignoring the little voice that told me this wasn't what I truly wanted.

The attraction told me I wanted to make out with him, which he had offered several times before. I had always said no, but now that I wanted to, he put a price on it. A topless picture. I wouldn't do it. So no make-out. I told him there had never been a price before, and he responded that now there was. Warning sign? You bet. Did I listen? No.

Eventually he suggested sex, even though he told me that he too was gong to wait until he was married. I was a little shocked, but actually considered it. Funny thing was, I knew it was something I should regret later, but I felt for some reason, I wouldn't. But when he continued pressing it, I told him stuff like, "C'mon, you know better, we both do, wait til you're married..." and so on. But he responded with stuff like, "whatever.". So, there you have it.

After going to my counselor and parents and getting the thing out in the open, and the roots of the problem located, things were a little better. But I almost went right back. I texted him again, asking if he still wanted to make out. His response? "Idk". Dirtbag.

My counselor made sure the pictures were deleted off his phone. But I still think about it often and wish I hadn't shown him anything and played along to his will.

I have another friend who is a believer, I met her at a believing summer camp. But she looked like she was heading down the wrong path, with her dressing up as a prostitute for halloween (hmmm) and posting some risque poses of herself on facebook. One time we were talking about guys and I asked her how far she went. She said they "semi-f***ed" but since it wasn't long enough to "pop her cherry", she doesn't consider that sex and thinks she's still a virgin. I worry for her. I don't think her parents know... they are divorced and she doesn't spend that much time with them.

I have another friend from that same camp who got pregnant. She is almost to her due date. Her predicament is no secret, and she knows that. She is handling it well and I admire her strength, but I still worry for the hard times she will face in the future.

I feel like I have so many people to worry about and pray for, and in the case of the secret of my close friend, well, I was in shock when she told me. I wish she hadn't. I'm glad she trusts me that much, but knowing is hard and it hurts. And thinking over my own mistakes and wishing I hadn't made them... it makes me feel like I'm worth less to my future husband. Do the kind of guys who will treat me the way I'm supposed to be treated look at me and think, "what a little s***"? Would the nice guys I grew up with think badly of me if they knew?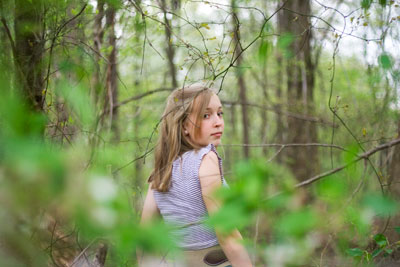 © Elise B., Gaithersburg, MD